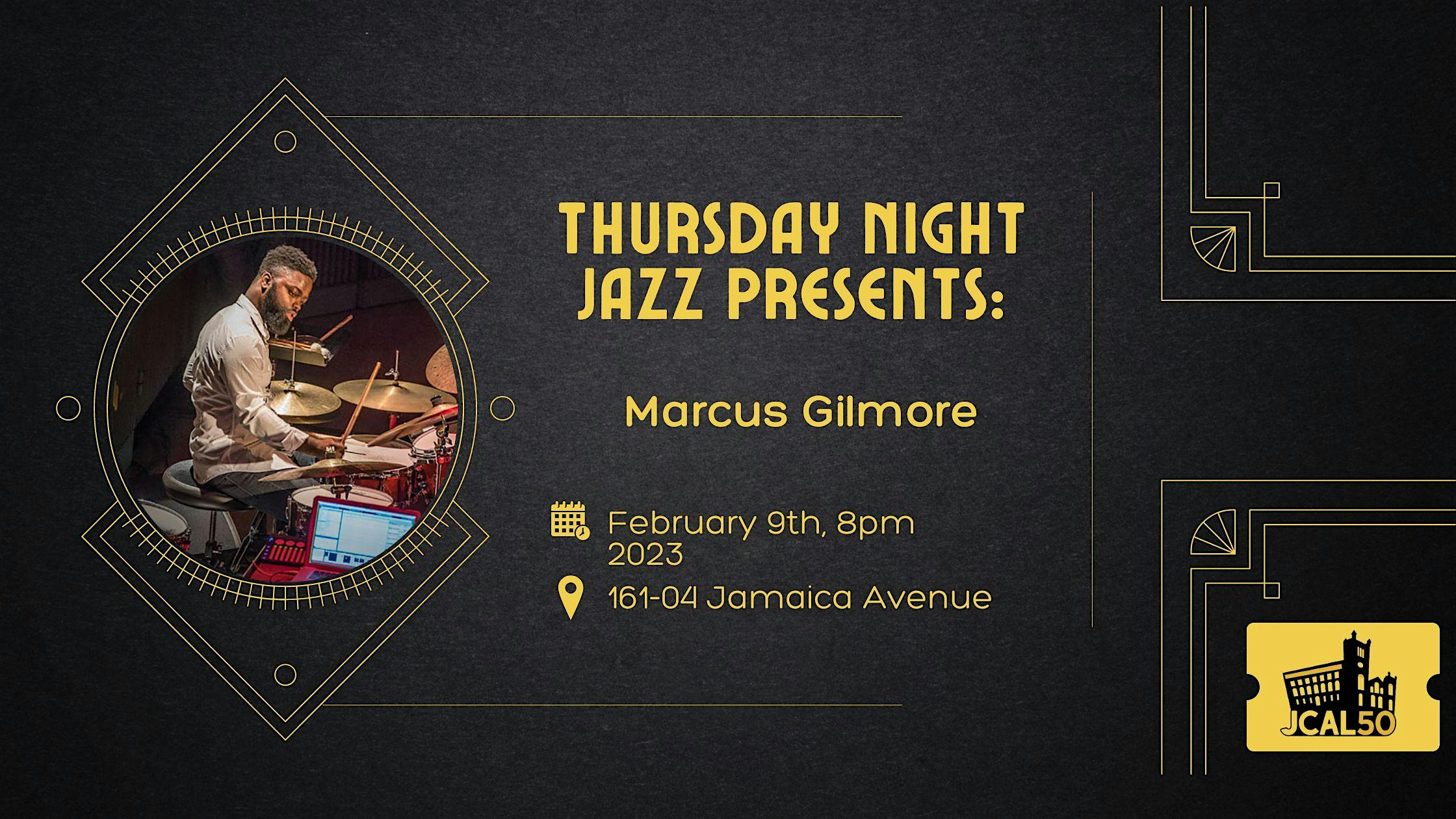 Thursday Night Jazz Presents: Marcus Gilmore
February 9, 2023 - 5:00 PM
Jamaica Performing Arts Center
DATE
February 9, 2023 - 5:00 PM
LOCATION
Jamaica Performing Arts Center
Marcus Gilmore is a Grammy Award winning American drummer/composer. New York Times critic Ben Ratliff included Gilmore in his list of drummers who are "finding new ways to look at the drum set, and at jazz itself", saying, "he created that pleasant citywide buzz when someone new and special blows through New York clubs and jam sessions".
While Gilmore has been found performing and recording with a diverse array of the finest musicians in the world such as Chick Corea, Pharoah Sanders, Savion Glover, Pat Metheny & Ravi Coltrane. Gilmore is known for his own group Actions Speak, and new special project, Silouhwav.
Gilmore, in all of his playing, integrates a unique style where he is musically expanding rhythm, while supporting the great musicians with whom he plays. He has also toured/recorded with Mulatu Astatke, Common, Steve Coleman, Vijay Iyer, Christian Scott, Thundercat, Cassandra Wilson, Nicholas Payton, Jill Scott, Talib Kweli, Queen Latifah, Black Thought, Zakir Hussain, Terrence Blanchard, Roy Hargrove, Robert Glasper and Taylor Mcferrin.
As a 2018/2019 Protege in the Annual Rolex Mentor and Protégé Art Project, Marcus was also featured on the cover of Modern Drummer Magazine for their June issue.
Additional current projects include releasing his first anticipated album , his innovative Marcus Gilmore Solo and Trio engagements, where he continues to explore percussion with new sound compositions and rhythms thrilling music audiences worldwide.