Apply to ARTWorks 2023 here: https://jcal.submittable.com/submit/247189/artworks-fellowship

ARTWorks is structured as a 10-month fellowship focused on career sustainability for emerging, underrepresented visual artists in New York City. Over the course of the program, Fellows receive cash stipends, free use of JCAL's studios and galleries; participation in curated seminars; and an invitation to curate and produce a monthlong exhibition in JCAL's Miller Gallery.

ARTWorks Fellows receive practical knowledge to navigate the aesthetic and socioeconomic complexities and substructures of the New York art world. Through fiscal and technical support, Fellows develop a creative vision and practice; expand their professional network through regular meetings and exploring diverse topics; and exhibit their work.

The ARTWorks Fellowship is managed by Lisa Wade. Learn more here.

About Lisa Wade:
​​​​​​​A Queens-based intuitive visual artist, Lisa employs photography, abstract painting, mixed media, clay, assemblage and collage in her works. She has had solo and group exhibitions in Queens, The Bronx, and Elmont, New York since 2017. Her work represents the confluence of intuition with the material. She approaches her creations in service to her guides and allows the art to manifest. She is highly influenced by the works of Betye Saar. Lisa is a self taught artist using mentors and workshops/classes to propel her work. In addition, she has curated photography exhibitions, co-written grants and worked on local art committees to produce exhibitions. She currently serves as Historian for Historic Addisleigh Park archiving and creating tours and events to engage her community.
Meet the 2022 Resident Fellows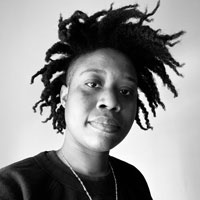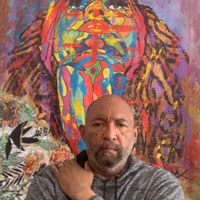 Jardley Jean-Louis
Jardley Jean-Louis is an NYC born award-winning artist, animator, art director, and filmmaker based in Queens, NY. Their work leans on their intersectional identities in Blackness, queerness, and the First (or Second) generation American experience. They have worked with companies such as Flocabulary, Futuro Media, and HBO on Film and TV shows, podcasts, and animated series centered on social justice, education, and entertainment. As a speaker, they have spoken at conferences such as "Where Are the Black Designers?" on amplifying underrepresented identities and voices in animation and design.

They hold a BA in Film Production from Brooklyn College.

Reginald Rousseau
Multidisciplinary Artist Reginald Rousseau, is best known for his raw, bold, aesthetically innovative, socially, culturally and spiritually driven works aimed at conveying emotions and stimulating intercultural communication and understanding. His forever evolving figurative-abstract paintings and installations, can be described as "an artful layering of Contemporary Haitian Art, Art Nouveau, Street Art, Modern Abstraction and African Artifact". Reginald, has studied Studio Arts at the City College of New York, while pursuing an Architectural Design degree. However, his artistic style, which fall at the interception of art and design is predominantly self-developed through experimentation with both traditional & non-traditional methods and mediums. His works are drafted with elongated & juxtaposed lines, vibrant colors, exaggerated features, organic & geometric patterns and multilayered textures.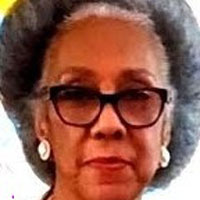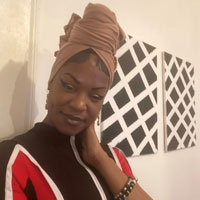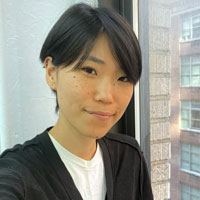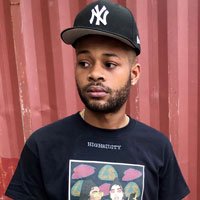 Anthony Jackson
Daphne Busby
Five years ago, Daphne Busby discovered her affinity for abstract art while doodling as a distraction from arthritic discomfort. The "Feel Better" theme of most of her work is expressed by the use of bright colors, bold designs and a touch of whimsy. She enjoys using the following mediums and processes: fork swipe, pour paint, metallic acrylics, mirror paper, etc.. Daphne is an active member of the Black Abstract Artist group and admires the work/ journey of Howardena Pendell, Danny Simmons and others. Daphne is continuing to learn and grow as an artist. See her work on Instagram @daphned.busby.

Shanice Figeroux
Shanice Figeroux is an Animator with practical expertise in multiple aspects of visual and graphic arts. Born in Queens, she is a cultured artist with talent in clothing design, acrylic painting, spray paint and custom one of a kind canvas and mural creations. Since 2016 she has painted 15 murals, won multiple grants and commissions from local businesses and non profit organizations throughout NYC. She has collaborated with over 10 nonprofit community orgs and local community gardens, hosting over 25 free community events.

Kyung Eun You
Kyung Eun You is a visual artist living and working in New York. She has been awarded with NYSCA/NYFA Artist Fellowship in Drawing/Printmaking/Book Arts (2020); Artist's Book Residency Grant from Women's Studio Workshop (2019); and New Prints Coursework Award from International Print Center New York (2019). Her works have been exhibited and featured in publications in the US, UK, Korea, and Hong Kong.

Anthony Jackson
​​​​​​​Anthony Jackson, AKA Bugzdale is from Mandeville Jamaica and grew up in New York City. Bugzdale graduated from the University of Albany with his MFA in May 2020. He is currently located in Queens, NY. Bugzdale is versed in different mediums but currently concentrating in Painting and Drawing. He describes his work as amplifying ideas about the black experience in our society. He focuses on ways to celebrate the lives of these under-represented individuals. Bugzdale had his first solo exhibition in May 2022 called Community located in Lake George. Bugzdale has also shown his work in several group shows over the years, His work is currently in an ongoing show since 2018 located in Albany with the Underground Railroad history project.