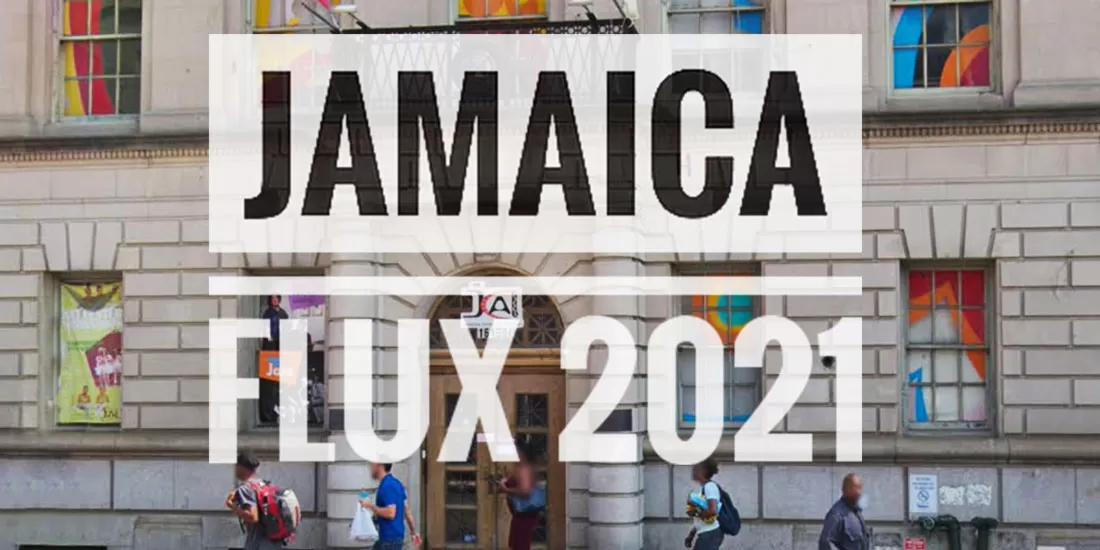 Jamaica Flux 2021
July 10, 2021 - August 22, 2021
Jamaica Center for Arts and Learning (JCAL)
DATE
July 10, 2021 - August 22, 2021
LOCATION
Jamaica Center for Arts and Learning (JCAL)
Not confined by gallery walls, Jamaica Flux is a contemporary public art project in which visual and performance art are displayed at a variety of locations along Jamaica Avenue in Queens, NY. The locations—banks, stores, restaurants, street corners, phone booths, parks, and other public spaces—are as diverse as the art. First conceived in 2002 to address the isolation of the art gallery from the community, Jamaica Flux has since evolved with the community in every iteration to reflect the pressing issues of the times and to advocate for social change through the arts.
With the intent to build equity and expand cultural inclusion throughout Southeast Queens, Jamaica Flux strives to commission and present art that involves the local community and catalyzes social change while also documenting the developments and contradictions that arise in the process.
Check out Jamaica Flux on social media


Jamaica Center for Arts & Learning (JCAL) is pleased to present the fifth iteration of Jamaica Flux: Workspaces and Windows with 14 NYC-based artists and artist groups selected for the year-long endeavor.
Jamaica Flux 2021 will explore the interconnection of Jamaica's history, economic development, cultural heritage, and diversity to conceptualize topical, socially engaging projects. The exhibition will bring together artists, curators, scholars, local residents, community leaders, developers, and politicians to build on the cultural legacy of Southeast Queens and to catalyze the transformative power of the visual arts, generating creative responses to the anxieties and tensions of our present moment. Due to the COVID-19 pandemic, JCAL will keep with the spirit of "flux" to create work that is shaped by both the limitations and the demands of the times.
Independent curator-writer Danni Shen serves as Project Director of Jamaica Flux 2021. Heng-Gil Han, who founded Jamaica Flux and was a prior Project Director, serves as Project Advisor. The curatorial team, along with a committee of New York art professionals and local community leaders, selected projects from a pool of proposals that artists submitted following an open call. Preference was given to emerging or under-recognized artists with strong artistic merit, and to artists who reflect local demographics or have substantial ties to Southeast Queens.
Over the last year, the artists have conducted research and built collaborative community relationships (virtually and in person) as they created their projects. Their creation process will be showcase in an exhibition of research ephemera at JCAL's Miller and Community Galleries from June 10 through August 7, 2021. The public projects situated in various sites along Jamaica Avenue will be on view beginning July 10 through August 21, 2021, along with other public programs.
See our Online Gallery page for more about and the artworks on view and program details. Appointments to visit the galleries can be made via Eventbrite and by emailing nkuo@jcal.org.