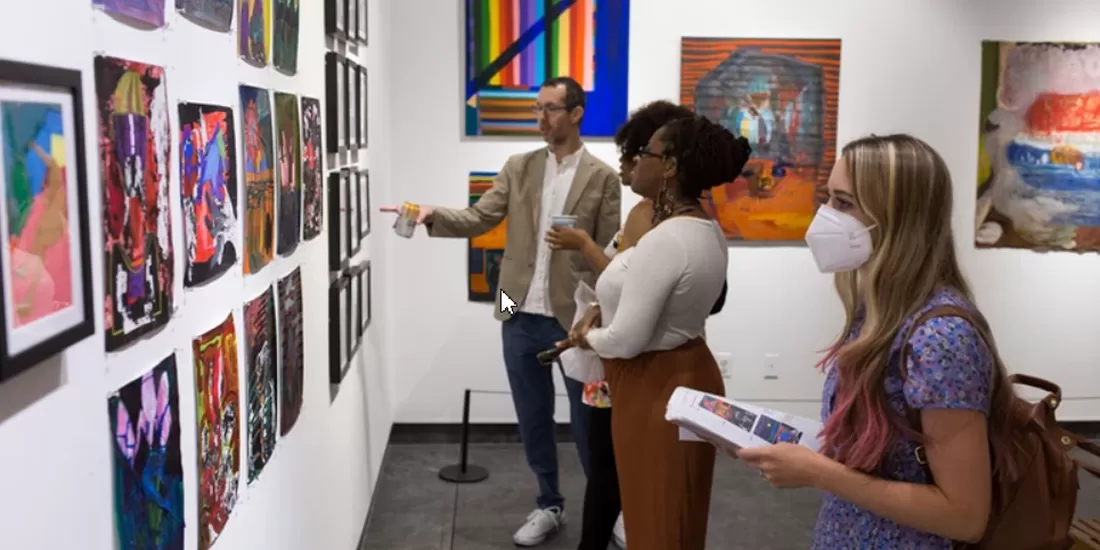 It's a Luxury to Look Back by Angela Miskis
June 30, 2022 - July 29, 2022
Jamaica Center for Arts and Learning (JCAL)
DATE
June 30, 2022 - July 29, 2022
LOCATION
Jamaica Center for Arts and Learning (JCAL)
The show of mixed-media works contains over 50 artworks, including paintings, drawings, and collages. Angela Miskis' vibrant and emotional works are guided by her upbringing in Ecuador and experiences coming-of-age in a foreign country. "Angela's brilliant work brings us together. Physically and emotionally, we can reconcile and reconvene before her artwork. Her abstract works, composed of collages, paintings, and drawings, are an elegant amalgamation of a profoundly intuitive and brilliant individual." said Teri Henderson, the exhibition curator. To read Henderson's complete curatorial statement, please click here. 

"We are extremely excited to have Angela's work in the Miller Gallery. As a community-based institution, it is vital that we present artwork that is accessible and speaks to the community. Angela Miskis' work reflects those ideals and sets a benchmark for the future. We are honored to have her," said Courtney Ffrench, Artistic Director of JCA.

Press for Angela Miskis: It's a Luxury to Look Back
The exhibition was featured in Hyperallergic "21 Art Shows to See in New York This Summer." 
Queens Daily Eagle announced the show's opening "New exhibition from Southeast Queens organizer set for JCAL."
Angela Miskis: A Painter of Life and Form Contributing essay by Tom Huhn, Ph.D. (Chair, BFA Visual & Critical Studies & Art History, School of Visual Arts)

The exhibition closes on Friday, July 29th, 2022. Check gallery hours by calling (718) 658-7400. 

The artist will also be at the gallery every Saturday until July 23rd, 2022, from 12 to 5 pm. You can RSVP using this link.

"Angela Miskis" Presents "It's a Luxury to Look Back" in partnership with Jamaica Center for Arts and Learning. "It's a Luxury to Look Back" is part of JCAL's Building Equity Project, funded partly by the New York Community Trust. This exhibition is also made possible by the Queens Council on the Arts with public funds from the New York City Department of Cultural Affairs in partnership with the City Council.


Image Gallery