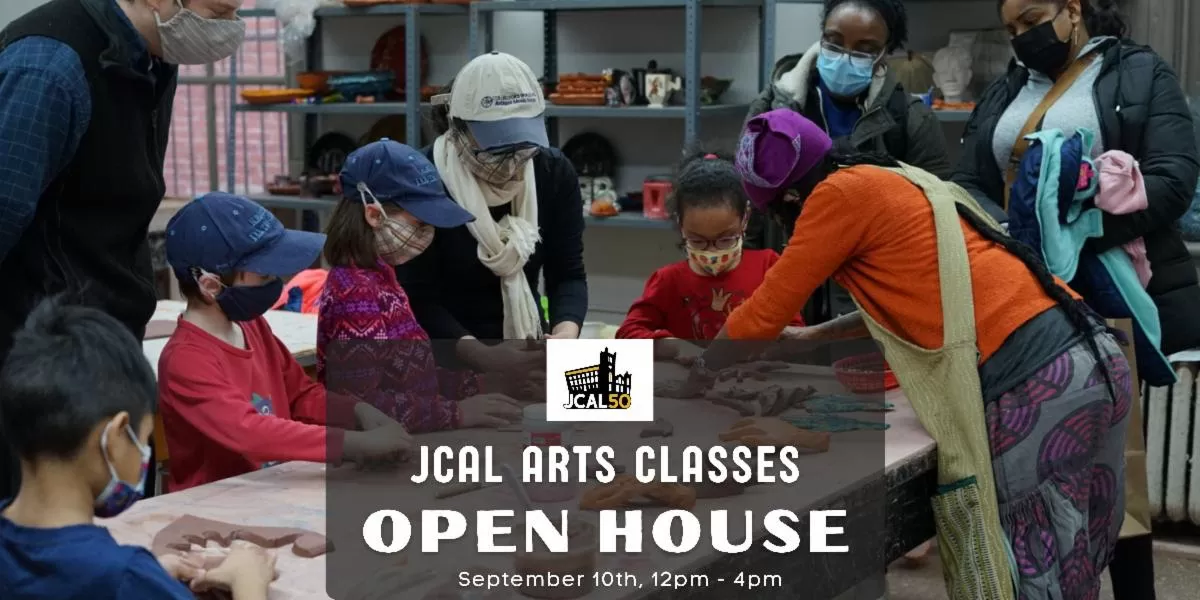 JCAL Arts Classes' Fall Semester is officially open for registration — and we're inviting you to partake in our upcoming Open House! On September 10th, join us at JCAL as our professional teaching artists host live interactive workshops which preview their classes!
Our Making Moves Dance Festival is coming up on Friday, September 23rd and Saturday, September 24th, starting at 7pm on both days. RSVP for the free event to check out the diverse cultural lineup that we have in store.
We're also hosting a series of upcoming workshops via our Building Equity Program including "Back 2 School Graffiti Workshop" and "We Finna Write."
See it all out below!
JCAL Arts Classes Open House
September 10th, 12pm - 4pm
161-04 Jamaica Avenue
Join us at JCAL as we kick off our Fall 2022 semester with a day of family-friendly fun! JCAL Arts Classes Open House will feature workshops with Professional Teaching Artists. Attendees will get a hands-on feel for each of our classes as our teaching artists lead interactive workshops. Classes include Ceramics, Piano, Acting, Fashion Design, Animation, Voice, Painting and more!
JCAL Arts Classes Fall Semester is Now Open for Registration!
Check Out Our Class Lineup Below
Comic Books, Cartooning, Portfolio, and Stop Motion Animation
A class for teens (and advanced pre-teens) in comic book and graphic novel creation and cartoon and anime drawing as well as portfolio development. The class includes the option of creating stop motion cartoon animation which may include traditional hand-drawn cell animation, white board animation, cut paper animation, flip books, claymation, and object animation.
JCAL members get 20% off of classes! Become a member here.
Intro to Acting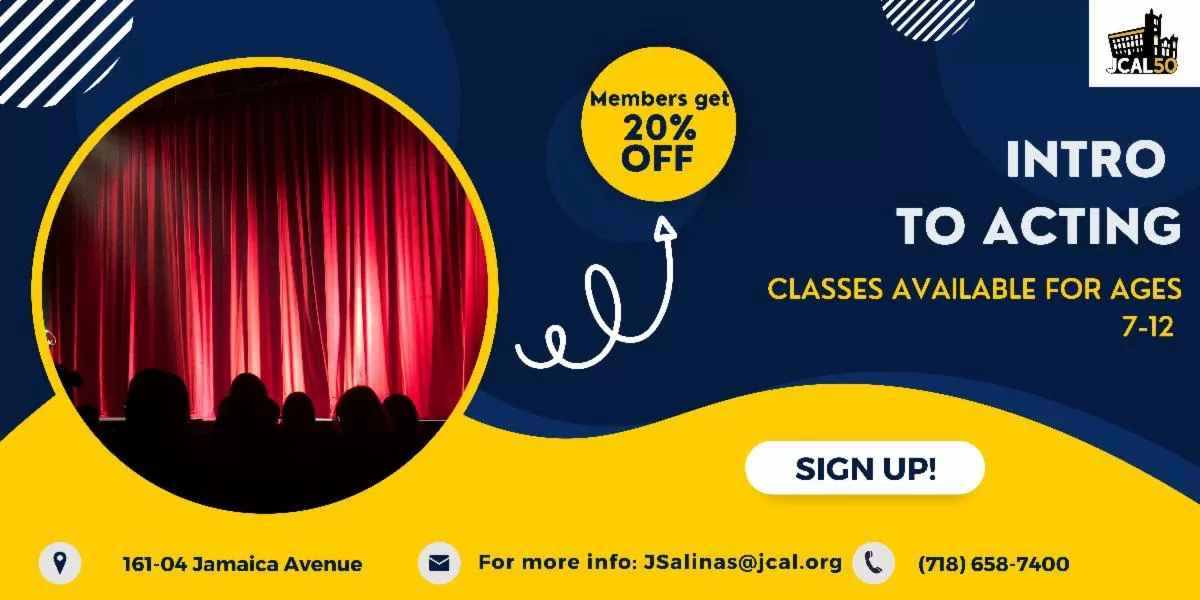 This class is designed to stimulate, excite and inspire a young person's naturally creative self. Students will engage in theater games and improvisation as a basis for exploration. The class teaches ensemble-building skills to establish a safe environment for the students to play and explore.
JCAL members get 20% off of classes! Become a member here.
Acting Out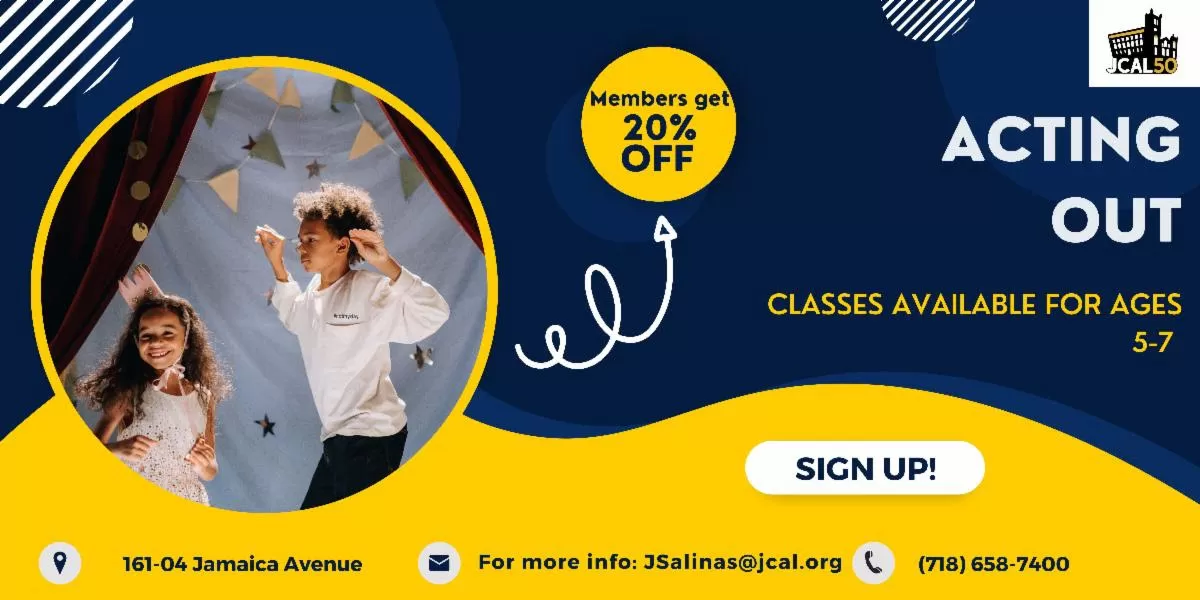 Our preschool classes turn the spotlight away from the teachers as the children take the stage. Be part of the action while students develop rhythmic coordination, language, and storytelling skills through games, song, and dance. Students will explore the joys of improv, singing, movement, and voice & speech, transforming their stories into tales to share and tell.
JCAL members get 20% off of classes! Become a member here.
Piano Beginner and Intermediate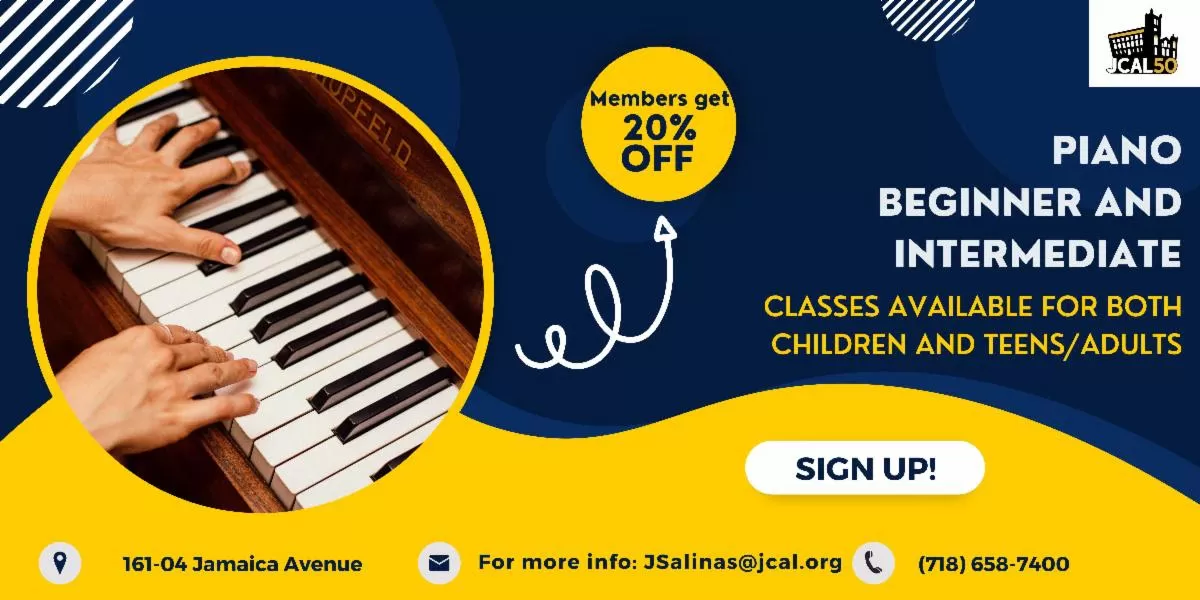 This keyboarding class is an intensive 6-week class for beginning and intermediate piano students. Each student will practice rhythmic fluency, note reading, and piano technique, all while preparing an individual piano piece to practice and perform at the end of the class. This small-group class will allow each student to get individualized guidance and instruction from the teacher no matter their level.
JCAL members get 20% off of classes! Become a member here.
Voice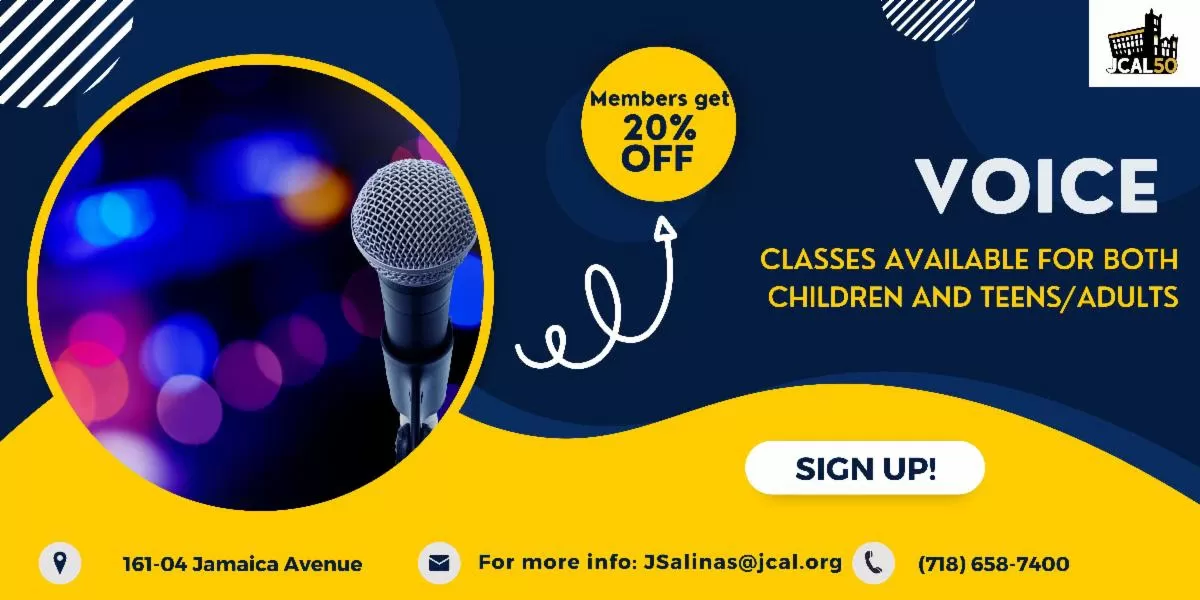 During this JCAL voice class, students will learn about the voice as an instrument, the fundamental techniques of singing, music history, and harmony - all while building a joyful community through music! Singers will work on repertoire from many different musical genres and will work on techniques for ensemble and solo singing. Singers of all levels and abilities are welcome and encouraged to join! This class is for students ages 9 to adult.
JCAL members get 20% off of classes! Become a member here.
Fashion Design 101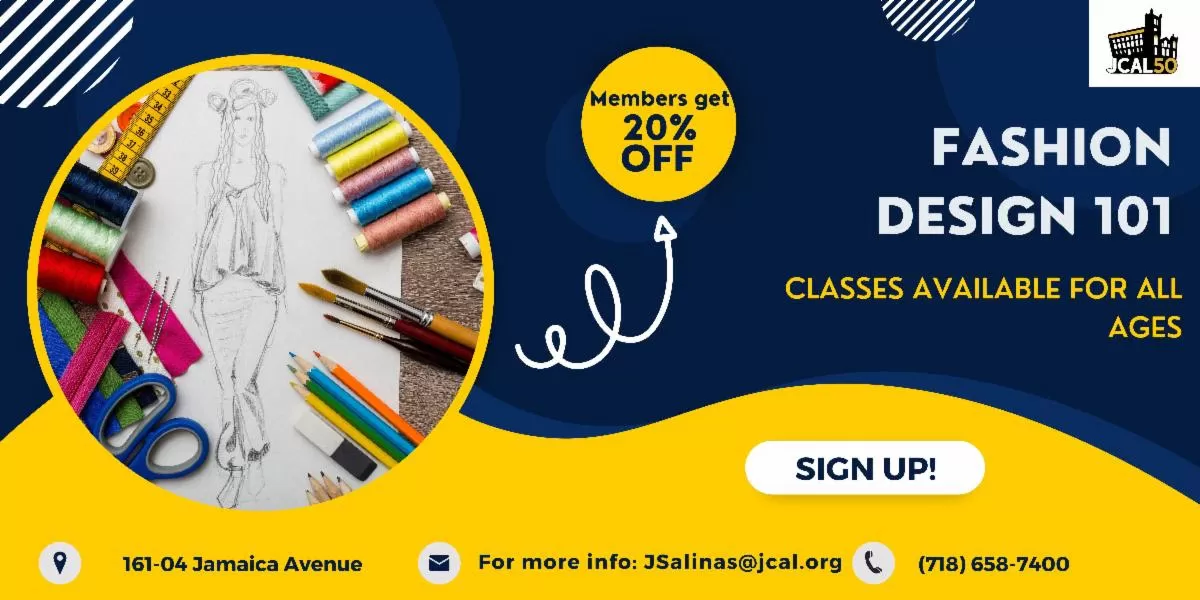 Students will learn the fundamentals of fashion design, including fashion illustration and machine and hand sewing. They'll learn to draw a 10-figure head, texture/fabric rendering, and create their own design using a sewing machine (provided by JCAL) as well as by hand with a needle.
JCAL members get 20% off of classes! Become a member here.
Drawing & Painting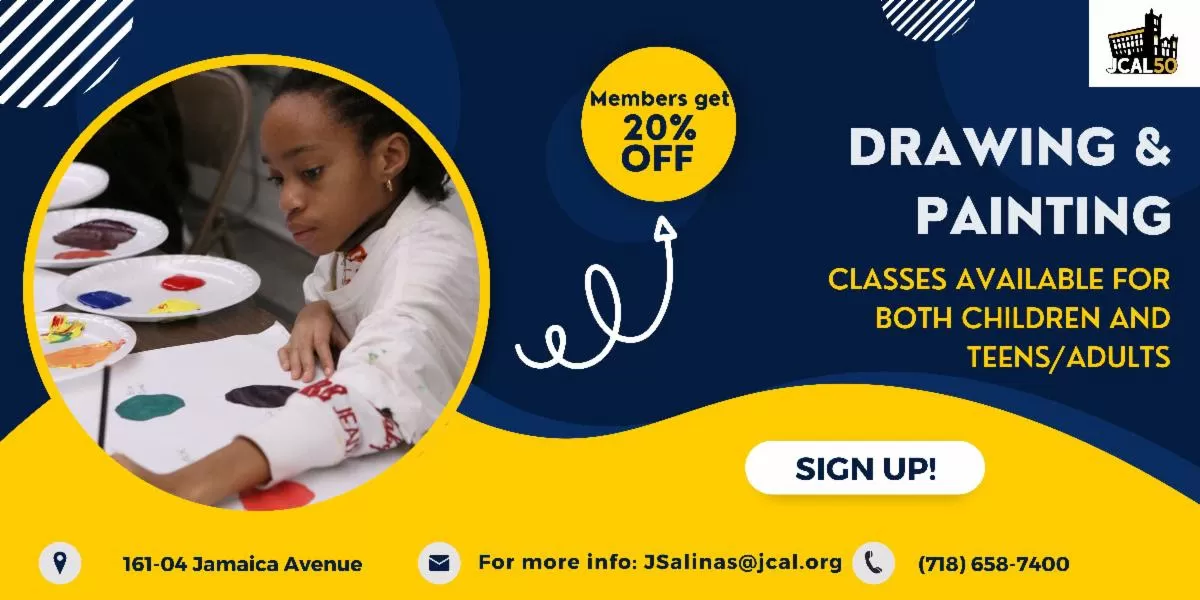 Learn fundamental elements of drawing and painting with pen and ink, watercolor, painted-paper collage, printmaking, and acrylic and tempera painting. Students will be encouraged to develop their own personal style while building their art-making vocabulary and strengthening their fine motor and problem-solving skills.
JCAL members get 20% off of classes! Become a member here.
Ceramics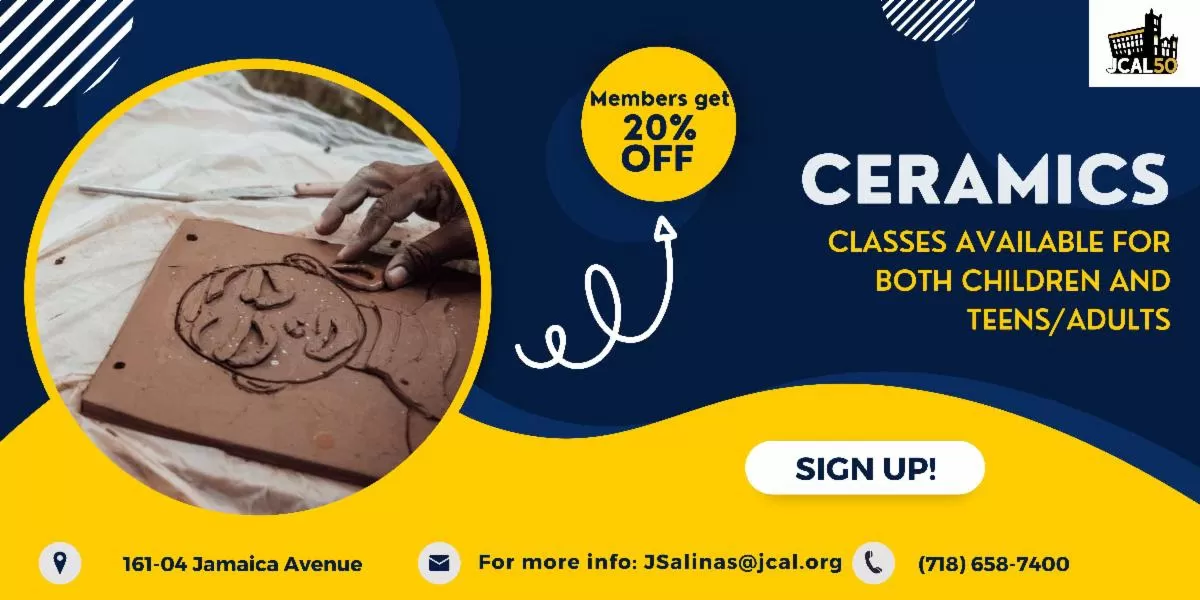 If you can imagine it, you can create it in JCAL's ceramics studio. This is an introductory course designed to give students a hands-on educational and artistic experience using the medium of clay. Students will begin with basic hand-building techniques and ways of shaping clay including coil, pinch, and slab methods. Students will also gain experience with various decorating, glazing, and firing techniques.
JCAL members get 20% off of classes! Become a member here.
Back 2 School Graffiti Workshop
August 20th, 12pm - 4pm
153-10 Jamaica Avenue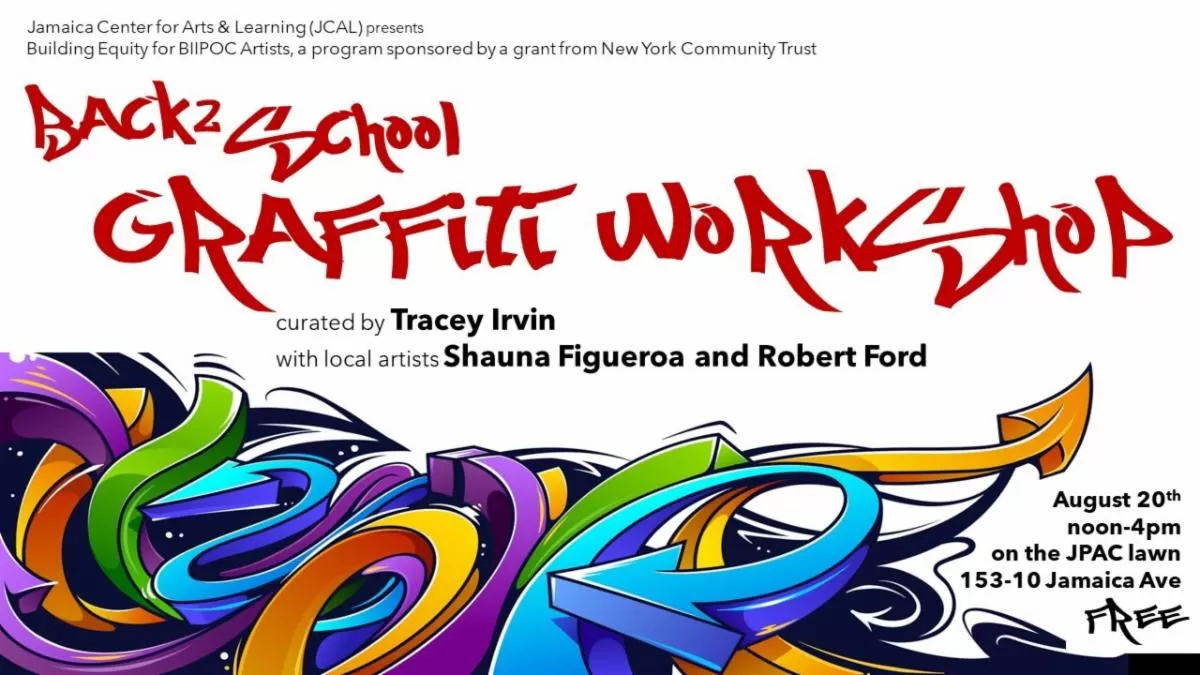 RSVP for this free graffiti workshop coming to JPAC!
The Back 2 School Graffiti Workshop will teach attendees about the history of graffiti along with some of the basics of "writing"/"Tagging"/painting. Participants will be allowed to take home their own individual artwork.
Curated by community-based Artist Tracey Irvin, with Shauna Figueroa and Robert Ford.
Job Opportunity at JCAL!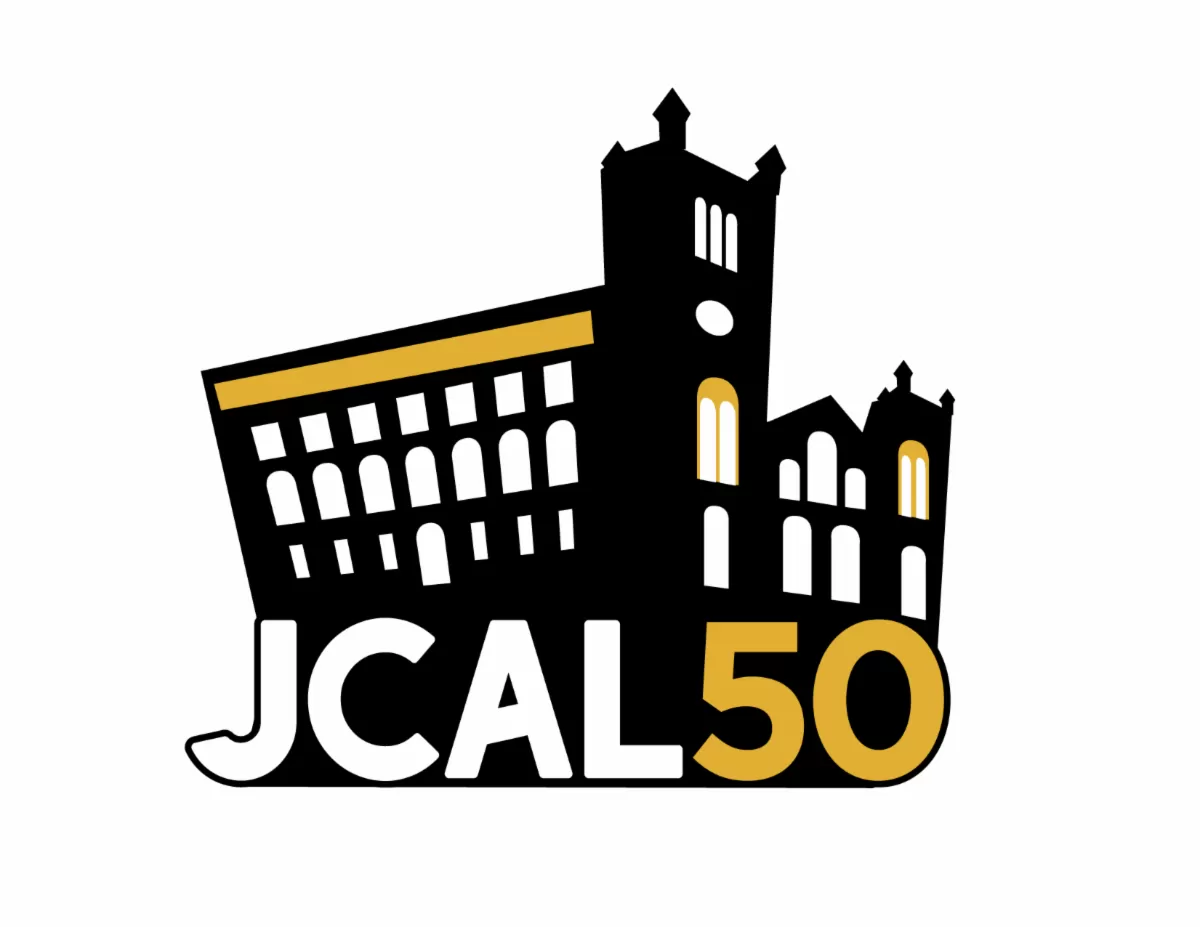 Jamaica Center for Arts and Learning (JCAL) is hiring a skilled maintenance hourly worker for the grounds of the Jamaica Performing Arts Center (153-10 Jamaica Avenue) and other regular and seasonal project and tasks in both buildings. For more information, contact JCAL Director of Facilities Edward Wysocki at EWysocki@jcal.org, or call 718-658-7400 x111.
Making Moves Dance Festival 2022
September 23rd & 24th, 7pm
Jamaica Performing Arts Center
153-10 Jamaica Avenue