The Highly Anticipated Relaunch of JCAL's ARTWorks 2022
JCAL & JPAC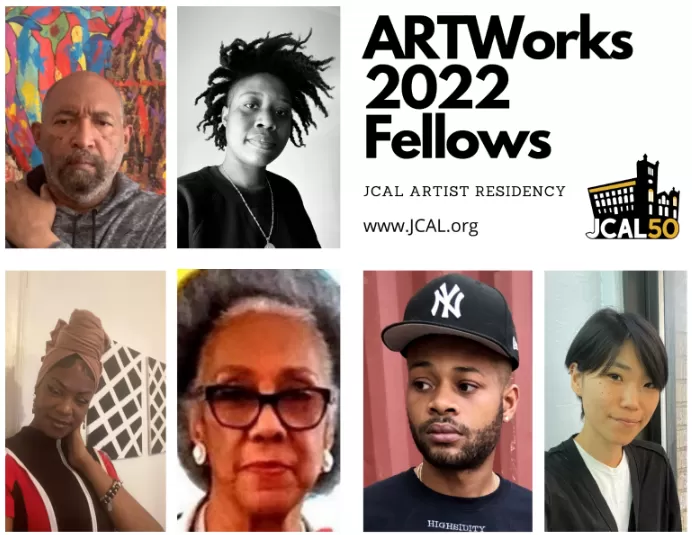 July 11, 2022 (New York) — Jamaica Center for Arts and Learning (JCAL) is pleased to announce the return of its Artists Residency and Training Seminar Series. Known as ARTWorks, it is structured as a 10-month fellowship focused on career sustainability for emerging, underrepresented visual artists in New York City.
Six artists were chosen by jury for the 2022 cohort, which met for the first time in June. Over the course of the program, two Resident Fellows (Reginald Rousseau, Jardley Jean-Louis) will receive $7,500; 100 hours free use of JCAL's studios and galleries; participation in curated seminars; and an invitation to curate and produce a monthlong exhibition in JCAL's Miller Gallery in Spring 2023.
In addition, four Seminar Fellows (Shanice Figeroux, Daphne Busby, Dinsdale Jackson, Kyung Eun You) will receive $1,000; up to 40 hours free use of the JCAL's studios and galleries; seminar participation; and an invitation to join a monthlong group exhibition in JCAL's Community Gallery in Spring 2023.
Lisa Wade, a distinguished artist-photographer based in Southeast Queens and a longtime member of the Southeast Queens Artist Alliance, is the Project Manager for ARTWorks.
ARTWorks Fellows receive practical knowledge to navigate the aesthetic and socioeconomic complexities and substructures of the New York art world. Through fiscal and technical support, Fellows develop a creative vision and practice; expand their professional network through regular meetings and exploring diverse topics; and exhibit their work.
"The relaunch of ARTWorks is a major moment for JCAL," says Artistic Director Courtney Ffrench. "And this newest cohort, with their emphasis on art that is based in social practice and justice, is an inspiration to us all. We see it as the start of a wonderful relationship with six incredible, emerging artists."
About Lisa Wade
A Queens-based intuitive visual artist, Lisa employs photography, abstract painting, mixed media, clay, assemblage and collage in her works. She has had solo and group exhibitions in Queens, The Bronx, and Elmont, New York since 2017. Her work represents the confluence of intuition with the material. She approaches her creations in service to her guides and allows the art to manifest.
She is highly influenced by the works of Betye Saar. Lisa is a self taught artist using mentors and workshops/classes to propel her work. In addition, she has curated photography exhibitions, co-written grants and worked on local art committees to produce exhibitions. She currently serves as Historian for Historic Addisleigh Park archiving and creating tours and events to engage her community. She is also serving on the Building Equity Initiative at JCAL along with her recent appointment as Project Manager for ARTworks.
About JCAL
Jamaica Center for Arts & Learning (JCAL), founded in 1972, is a multidisciplinary arts center based in the diverse community of Southeast Queens. Our mission is devoted to offering quality visual, performing, and literary arts, and to providing accessible education programs to encourage participation in the arts. JCAL is temporarily closed in accordance with state and local guidelines. Normal operating hours: Open Monday through Saturday from 10am to 6pm; closed Sundays and major holidays. For additional information, call JCAL at 718-658-7400 or visit JCAL.org.