Shakespeare in the Park Tickets at JCAL! Meet two of the actors (Exclusive Interview)
JCAL & JPAC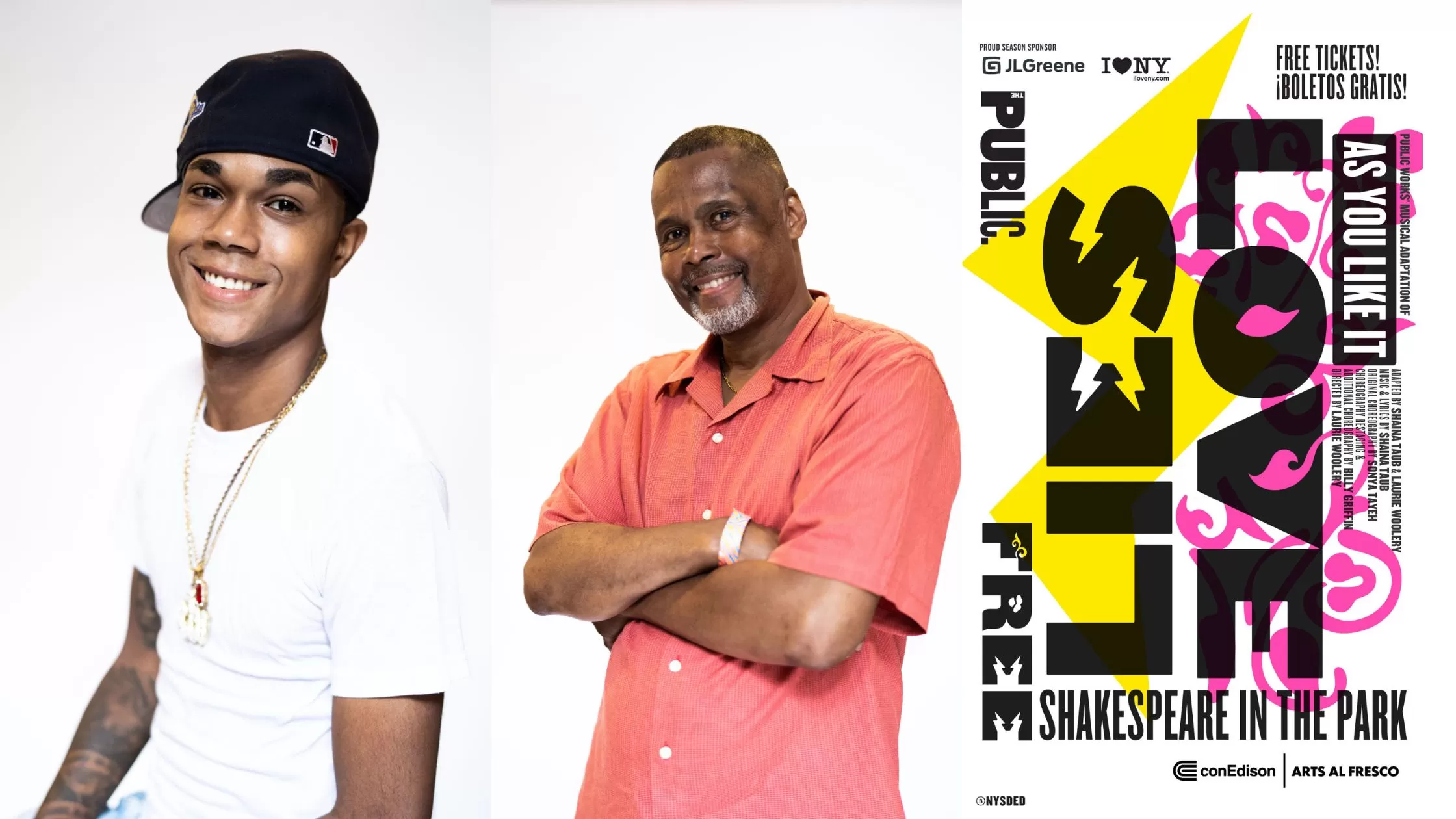 Public Works, a major program of The Public Theater, which aims to build and restore community by connecting people through extraordinary works of collaborative artmaking, is celebrating its 10th anniversary with its musical adaptation of AS YOU LIKE IT at The Delacorte Theater in Central Park. This Free Shakespeare in the Park production brings together 127 New Yorkers from all five boroughs of the city, including members from Jamaica, Queens. In this interview with Jennifer Haley (Public Works Community Artistic Projects Coordinator), two cast members of the AS YOU LIKE IT ensemble, Kenneth Collins and Almostafa "Mustafa" Elnoor share how they got involved with Public Works and AS YOU LIKE IT, their connection with their communities in Jamaica, and why people should come see the show!
On Friday, September 2, the Jamaica Center for Arts and Learning (JCAL) will host The Public Theater for a free ticket distribution event. Staff from The Public Theater will set up a table in the lobby of JCAL around 10:00 a.m. and hand out tickets starting at 12:00 pm for the September 2 performance at 8:00 p.m. Anyone with a Public Theater account is eligible to receive up to two vouchers, which can be redeemed for tickets that evening at The Delacorte Box Office from 5:30-7:30pm. Confirm if you have an account or make a new one at publictheater.org/register. Come by before noon to get in line for your chance to enjoy AS YOU LIKE IT!
Jennifer Haley: How did you hear about Public Works, and how did you get involved?
Kenneth Collins: A good friend of mine, Eddie Bottoms, asked me to join him at acting classes at Brownsville Recreation Center, and I came around, saw the atmosphere, and I liked it. I have spent much time watching plays, and now I see how much time is put in behind the scenes. I learned a lot in that class.
Almostafa "Mustafa" Elnoor: I was at The Fortune Society doing a job corps class. A Public Works person walked into the class and said if you want to audition for The Public Theater to come upstairs when the class is done. I decided to take the chance to audition. I talked to John Runowicz [Manager of Creative Arts, The Fortune Society], Pablo Hernandez Basulto [Manager of Community Impact, Public Works] and you. I told a few jokes in my audition and now here we are.
JH: This is your first show with Public Works. What has it been like to be in As You Like It and to be a part of a show in central park?
AE: My experience has been pretty awesome and exciting. Learning the dance moves, being in a whole new environment that I've never been in before. In middle school, I was scared to get on stage. I did a middle school play, but I was so scared I felt like I didn't get to enjoy myself. I used to have fear or feel uncomfortable or nervous, but now
I'm not nervous. I feel like I have a second chance to be on stage and do what I have to do without the fear of the audience.
I wouldn't be in the play if it weren't for Public Works. It's my first time doing something like As You Like It, so I'm always learning something every day and meeting new people out at The Delacorte.
KC: It's been fun. I've enjoyed being with the people. I'm running around with good people who want to help. If you don't know something, ask. They'll help. If they don't know, they'll find out for you. Everyone works together for one goal: put on a great performance and go from there. Even if you mess up, someone will be there to pick you up.
JH: Tell me about Jamaica, Queens—what are some of your favorite places in your neighborhood? What makes it special?
AE: I grew up and lived there for 25 years. Jamaica Avenue is pretty crowded with shopping. In my neighborhood, I was always with my friends. We'd go to the park, play basketball, go to my friend's house, and play video games. I enjoy watching movies and going to the movie theater. I think the neighborhood—there's always good and bad to it, but if you stay positive, you go in the right direction, you'll only see good.
KC: Jamaica Avenue, we call it downtown Jamaica, they have a lot of activities and arts. Certain parks will have a lot going on, like right now in the summer, they have things for the kids. The part in Jamaica I live in, three blocks from Baisley Pond Park, you hear no traffic, ducks, swans, and maybe a flamingo. We have these Canadian geese that just come and hang out. It's a nice place near me to hang out. The new thing is playing cricket, so you can come watch cricket. You can put your chair out—not in the sun; in the shade—and watch cricket.
There's a real neighborhood feel. Everyone feels comfortable. Here's the thing: everybody respects everybody. The majority of folks respect the neighborhood, respect where you live at. That's all you ask for. You can see how we upkeep our street, how you upkeep your home. Everybody works together.
JH: What would you say is your connection between your community in Queens and becoming part of Public Works and As You Like It?
KC: There's a theater inside Roy Wilkins Park. They have concerts, musicals, all sorts of things. If there's a play going on, they'll advertise it, and people will show up. My mother would see plays there by Black artists with her friends. I would drop her off and pick her up after. She's the one who introduced me to theater. She'd say "You've got a few days off work. Go see this." I would go see plays in Manhattan. I went to a lot of theater. I saw a lot of August Wilson's plays. The first play I saw was Two Trains Running by August Wilson, and I liked it. I liked how complex people's lives were at a time of adversity. I also saw The Piano Lesson and Jitney.
JH: Why should folks from Jamaica come see As You Like It?
AE: I think my friends would be proud of me for doing something like this. I think Jamie [Maleszka, from The Fortune Society] is coming to the show. I have some very good, close friends coming to the show. People should come see the show to support the whole neighborhood and to support Public Works and all the hard work and what we are doing.
JH: How would you describe As You Like It and Public Works to someone?
AE: I'd tell people about Shakespeare and this version of As You Like It. There's a lot more upsides to the story; it doesn't have a lot of violence. It's for everyone. Everyone can bring their kids. If you want to see a comedy, I think you should come!
KC: I'd tell them it's something different. It's not what you expect. It's a Shakespeare play but it's not your normal Shakespeare. There's something different. It has an upbeat to it. It's real easy to find out who's doing what—the story line. It's a different kind of story. It's a love story. I'd tell people to get out of the norm, step out of your box. Plus, it's free. Come hang out! Do something different. You might enjoy it! [In Public Works], we're building community. You're welcoming me into your family. This is a family group. Everyone is tight knit. There's no animosity. Everyone leaves their ego at the door. They come in to do one thing: to do a great performance. But we're going to have fun while we do it.
AS YOU LIKE IT follows the story of Rosalind and Orlando, two young people who are banished from their home by the new ruler, Duke Frederick. Disguised, Rosalind escapes with her cousin Celia to the Forest of Arden. Lost amidst the trees, the refugees seek community, love, and self-discovery under the stars. This adaptation of AS YOU LIKE IT explores love in all its forms, forgiveness and the bravery it takes to reveal our true selves, with all our imperfections.
Free tickets will be distributed in a variety of ways across all five boroughs, including the in-person line at The Delacorte Theater, the in-person lottery at The Public Theater, and borough distribution sites. Additionally, TodayTix is The Public's partner for the free virtual ticket lottery distribution. Come by JCAL before noon on Friday, September 2 for your opportunity to see this inspiring show!
PUBLIC WORKS, a major initiative of The Public Theater, aims to restore and build community by connecting people through the creation of extraordinary works of art. Public Works is animated by the idea that theater is a place of possibility, where the boundaries that separate us from each other in the rest of life can fall away. Working with partner organizations in all five boroughs, Public Works invites community members to take classes, attend performances, and join in the creation of ambitious works of participatory theater.
Led by Public Works Director Laurie Woolery, this initiative deliberately blurs the line between professional artists and community members, creating theater that is not only for the people, but by and of the people as well. Public Works exemplifies The Public's long-standing commitment to putting community at the core of the theater's mission. Public Works seeks to create a space where we can not only reflect on the world as it is, but where we can propose new possibilities for what our society might be.