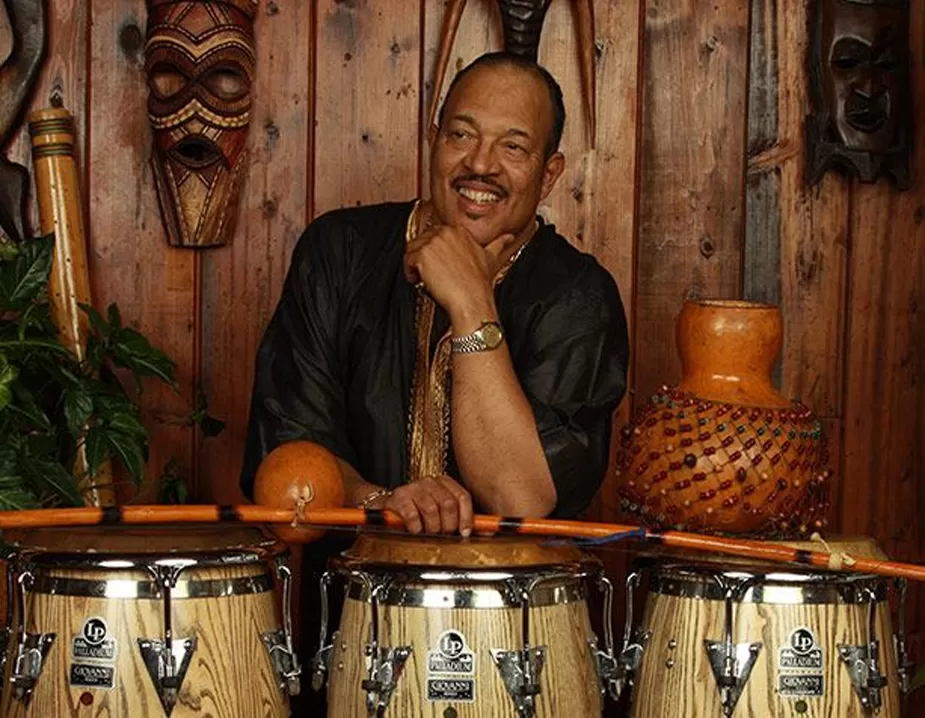 Jamaica Center for Arts & Learning (JCAL) is excited to announce the return of Riddim Section, a free monthly music series at JCAL's 99-seat black box theater. Created by Artistic Director Courtney Ffrench, Riddim Section draws life directly from the cultures across Queens, with bands covering such genres as Afrobeat, Calypso, Chutney, Kompa, reggae, R&B and more. Riddim Section will resume during Black History month with a performance by acclaimed percussionist Steven Kroon on February 23rd at 8pm.
Riddim Section is curated by Jamaican-born actor, singer and producer Andrew Clarke. Clarke is the founder and artistic director of Braata Productions, a nonprofit company. A graduate of The Edna Manley College School of Drama in Kingston, Jamaica, and Brooklyn College in New York City, Clarke is an award-winning thespian and vocalist and a past recipient of the Prime Minister of Jamaica's Youth Award for Excellence in Arts and Culture.
Steven Kroon's performance is sure to set the tone for this year's lineup. Kroon has worked with such notables as Luther Van Dross, Ron Carter , Aretha Franklin, Lady Gaga and much more. He's played on an array of television shows from the Tonight Show to David Letterman, Jay Leno, as well as the Grammy's. His band is a high-energy electrifying Latin Jazz Sextet. Their musicality consists of Jazz with the blend of Afro Cuban and Brazilian music.
"This has been such a treat," said Andrew Clarke, Curator of Riddim Section. "I'm bringing the musical influences of my life and training to a series that is rich, textured and showcasing a potpourri of sounds, styles and rhythmic patterns from different corners of the world. I'm excited to give the mainstage to music genres that don't always receive great attention."
Clarke added: "Now, more than ever, people of color need to see themselves on stage in ways that are fulfilling and uplifting. So in this series there will be something for everyone, from Afrobeat, Calypso and Chutney to Kompa, Reggae and more. Patrons will have their music palette satisfied -- and possibly get a taste of something new."
Said Courtney Ffrench, Artistic Director of JCAL, "With Riddim Section, JCAL is proud to extend our tradition of offering live music, performed by diverse, multicultural musicians, to the public."
Added Leonard Jacobs, Executive Director of JCAL: "Courtney's idea for Riddim Section has inspired and excited our whole staff since the moment he suggested it. And bringing on the gifted Andrew Clarke is a huge plus! We literally can't wait to get these concerts going!"
In celebration of Black History month, JCAL will also host a virtual screening on YouTube of Fanike African Dance Troupe. Fanike African Dance Troupe embraces and respects the dance, rhythm, historic and growing culture tied to African movement. Their mission is to perpetuate the survival of African/African Diaspora culture and arts through dance and percussion presentation. Directed by Patricia Ghizamboule Robinson, JCAL will stream Fanike's signature libation, drumming and dance performance honoring the ancestors of the African Diaspora.