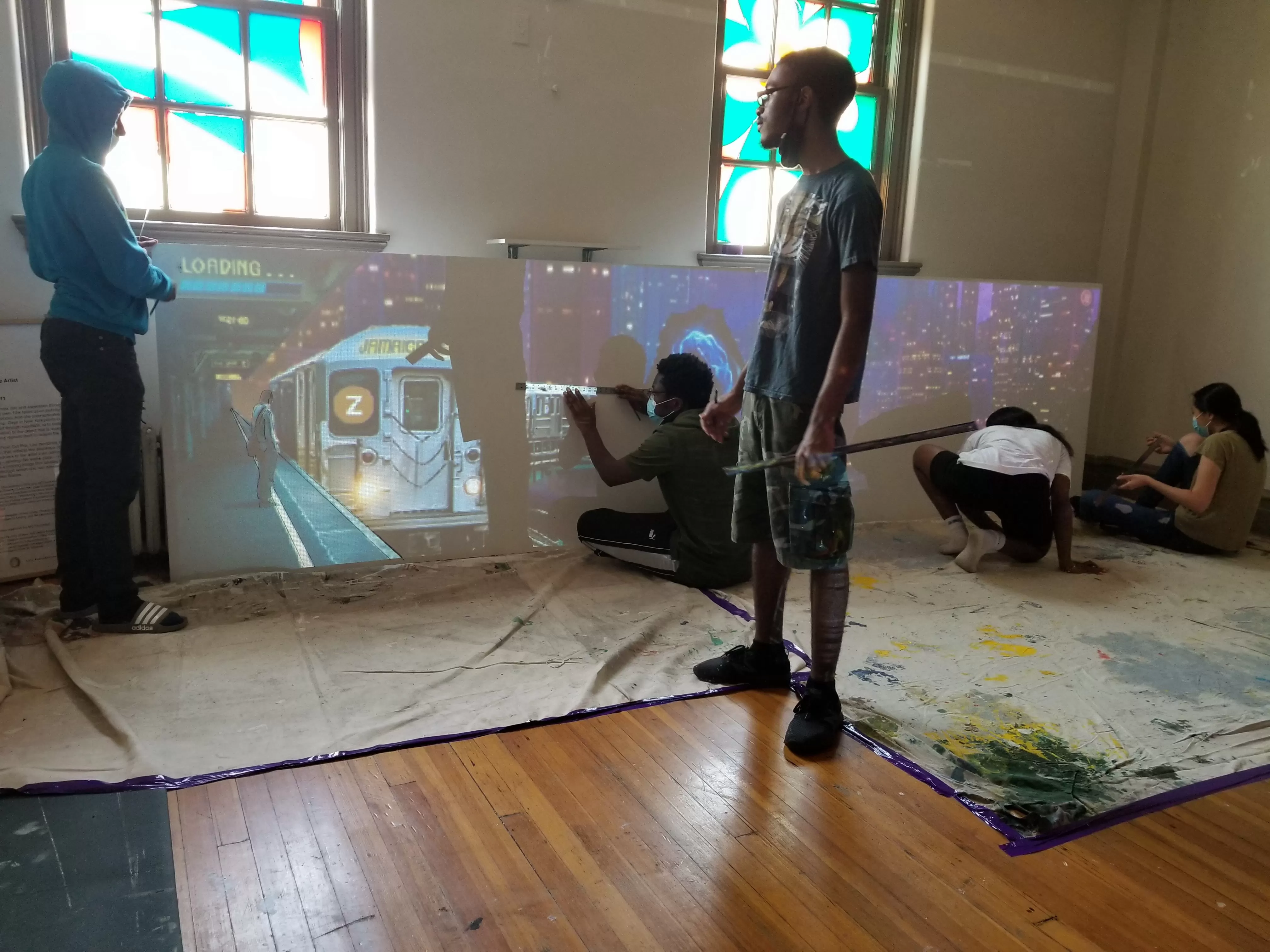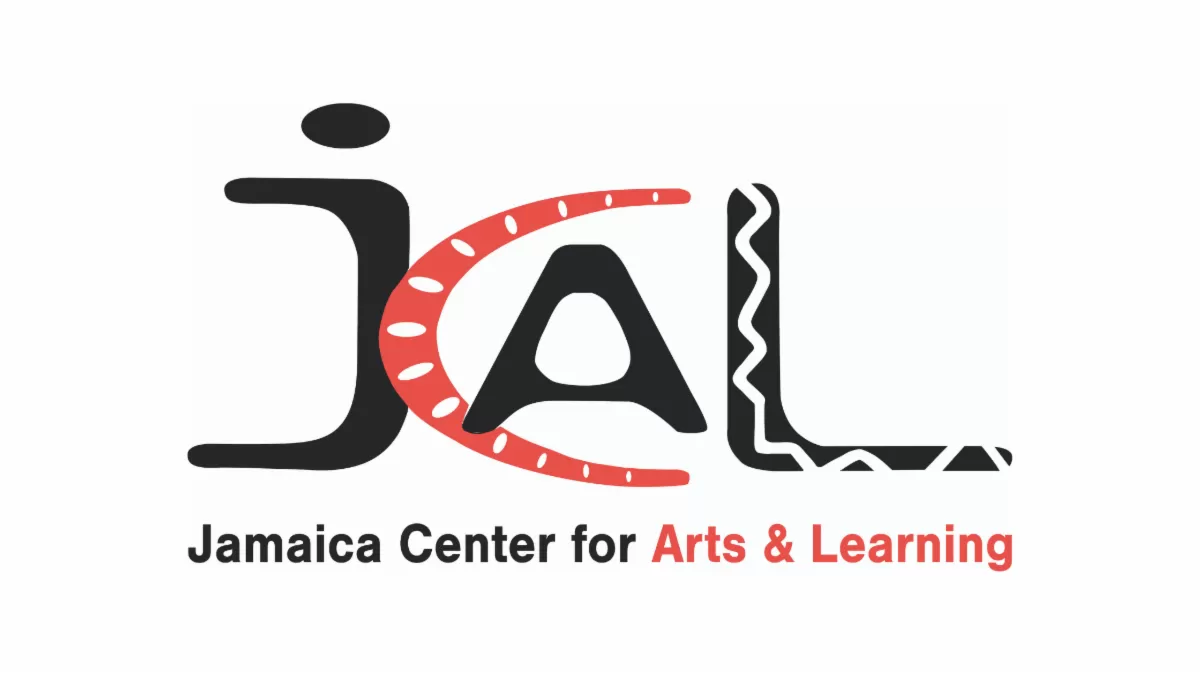 Check out the performances and events coming to our stages soon! This Saturday, you can enjoy outdoor performances by diverse composers and artists at the Vital Health and Wellness Festival. Also coming soon is the latest installment of Jamaica Mic Drop, our annual Making Moves Dance Festival and Southeast Queens Jam Fest. RSVP to those free events below!
Lastly, have you heard about the upcoming Danny Simmons residency at JCAL entitled "Homecoming"? The first Homecoming event will pair Simmons -- A Tony Award winner and Co Creator of Def Poetry Jam -- with Ron Carter, a two time Grammy Award winning artist and the most recorded Bassist of all time. Get your tickets to this landmark performance today!
Vitals Health & Wellness Music Festival
August 21st, 2021 11am - 5pm
Jamaica Performing Arts Center Lawn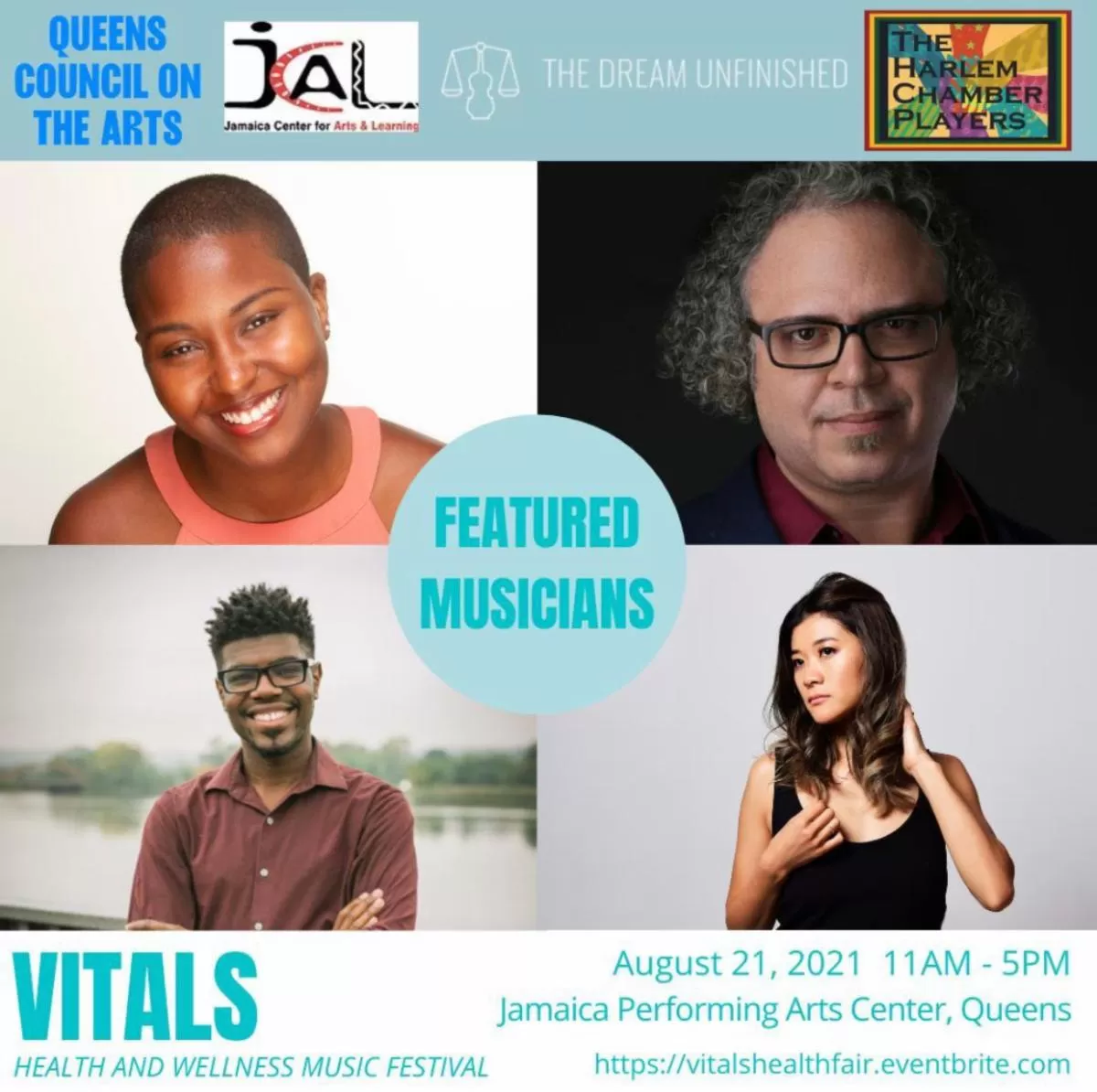 This Saturday! Join us at VITALS, an outdoor health and wellness festival highlighting non-profit organizations and entrepreneurs advancing health equity amongst communities of color. Also featuring musicians from The Dream Unfinished, an Activist Orchestra, and the Harlem Chamber Players, in outdoor performances of works by diverse artists and composers. Free admission.
This event is supported in part by the Queens Council of the Arts, and is produced in partnership with The Dream Unfinished.
"Homecoming" Featuring Danny Simmons and Ron Carter
October 2nd, 8pm @ Jamaica Performing Arts Center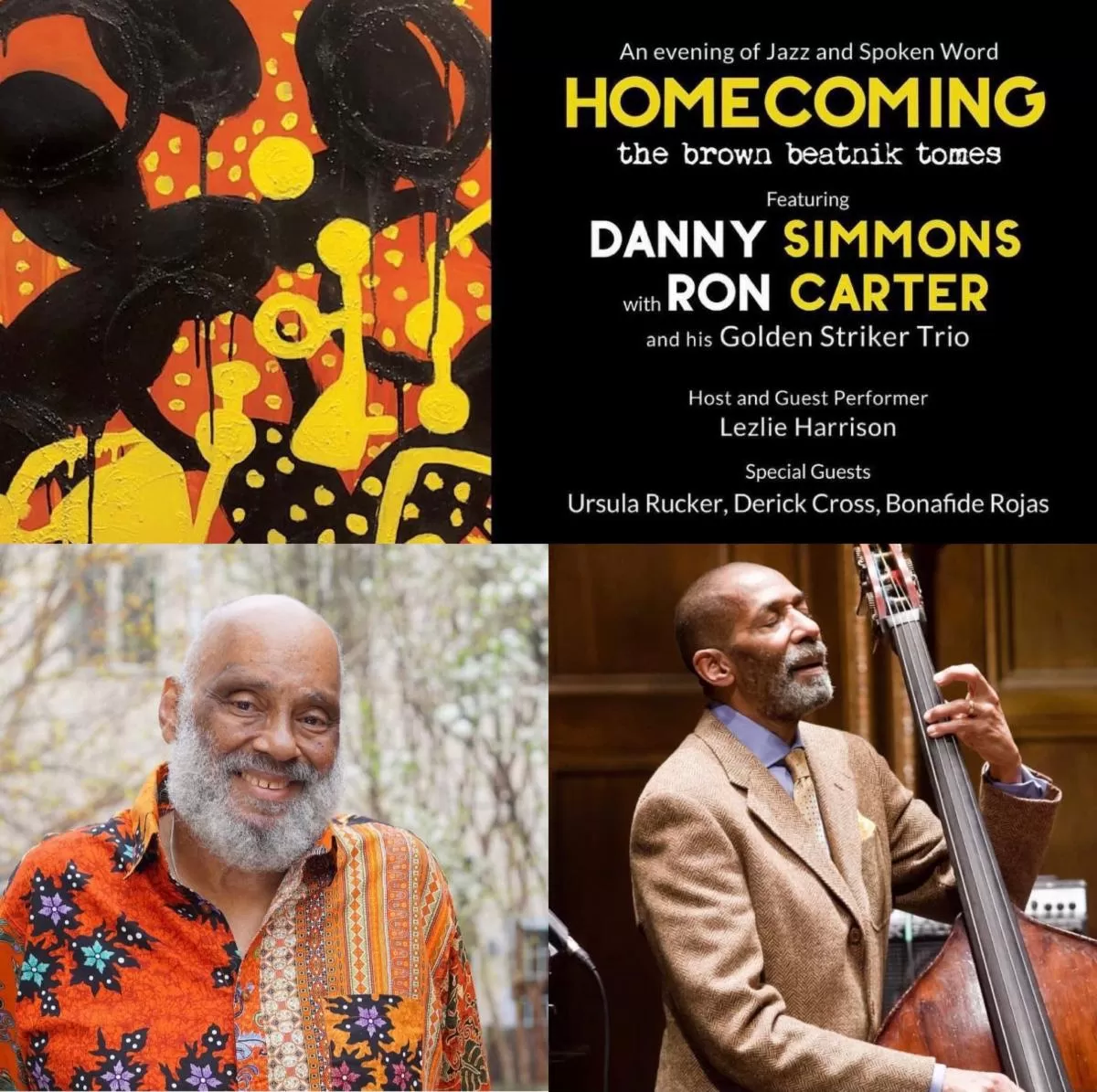 Danny Simmons' residency "Homecoming" will officially kick off JCAL's 50th anniversary year with a performance at 8pm on Sat., Oct. 2 at the Jamaica Performing Arts Center pairing Simmons with legendary two-time Grammy-winning bassist Ron Carter, whose appearances on 2,221 recording sessions make him the most-recorded jazz bassist in history. Also joining Simmons and Carter will be Carter's Golden Striker Trio, Jazz Singer and host Lezlie Harrison and spoken-word artists ursula rucker, Derick Cross and Bonafide Rojas. Tickets are set at $20 and may be purchased in advance below.
Jamaica Mic Drop
Featuring Poet and Emcee J La Sol
August 27th, 5pm @ Parsons Public Space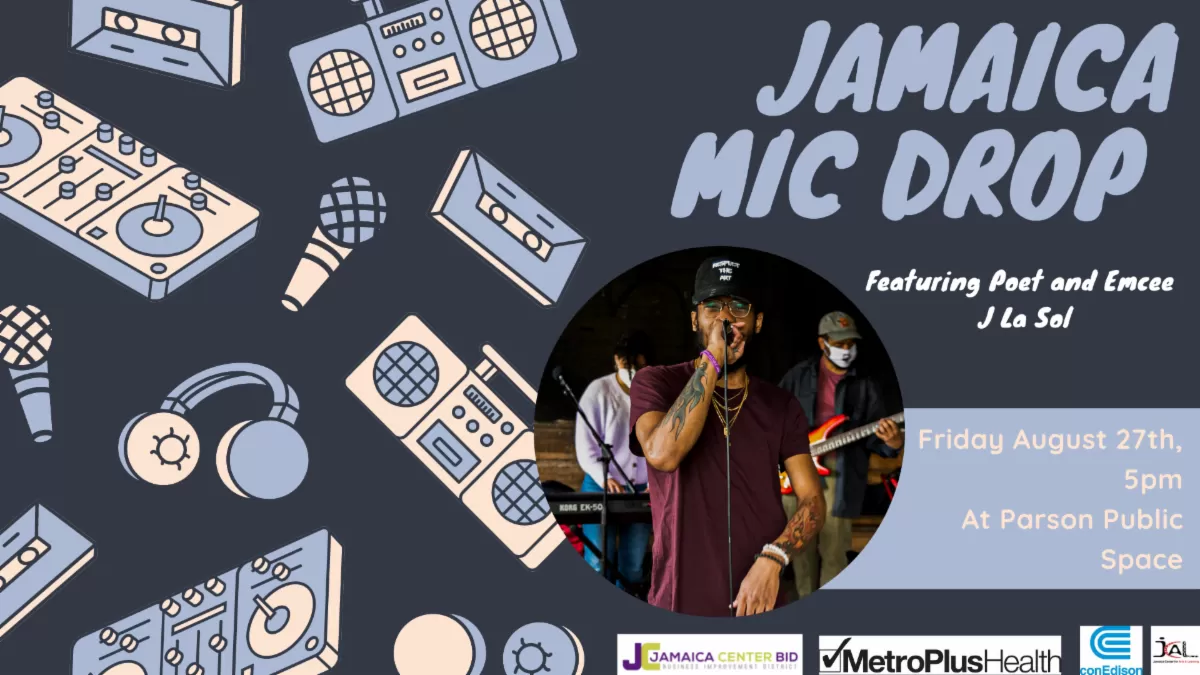 The next performer at Jamaica Mic Drop is Queens based poet and emcee J La Sol. Generally known as a quiet child, Sol found his voice through the power of poetry, which ultimately evolved into the art of music. Since then, he has used his talents to inspire and share his story with people all across NY and different parts of the country. Sol believes his voice is meant for more than just stages and he prove that by performing in subways, museums, schools, and much more.
With sponsorships from the Jamaica Center BID, MetroPlus and Con Edison, the event will take place in the Parsons Public Space—the full block between Archer and Jamaica Avenue on Parsons Boulevard.
Video of the week:
Watch: Queens Artists Create an Amazing Work as a Part of Beautify NYC!
JCAL is thrilled to be a part of Beautify NYC, a program committed to making a neighborhood look and feel better leading to more interaction among neighbors, new businesses and a sense of community.
In this video, Artists at JCAL work on one of three artworks that will be showcased publicly in Jamaica Queens. You can check this work out at Jamaica Performing Arts Center beginning September 10th.
Beautify NYC is made possible by the New York City Artist Corps and the City Cleanup Corps (NYC CCC).
Be sure to subscribe to our YouTube for more content!
Southeast Queens Jam Fest
September 12th, 2021 3pm
Jamaica Performing Arts Center Outdoor Stage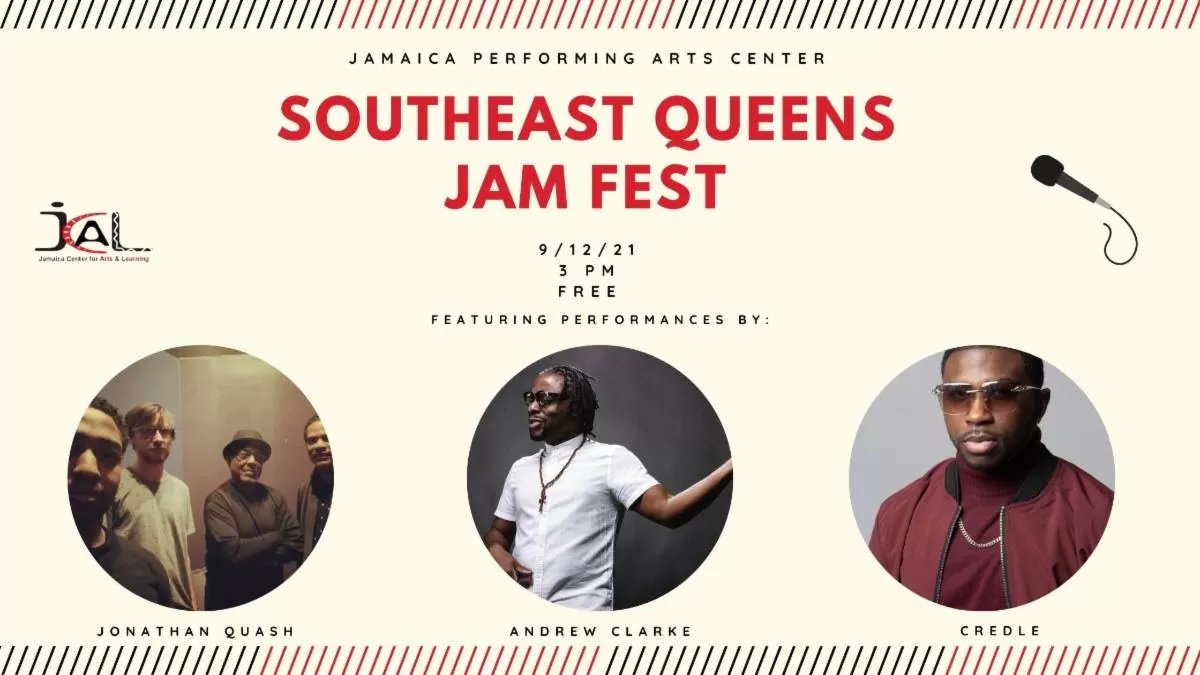 We are thrilled to present the second annual Southeast Queens Jam Fest! This event will bring 3 exciting, community based performers to the outdoor stage of the Jamaica Performing Arts Center on September 12th, 3pm. RSVP today to check out our exciting lineup of musicians.
Making Moves Dance Festival
September 17th & 18th 7pm
Jamaica Performing Arts Center Outdoor Stage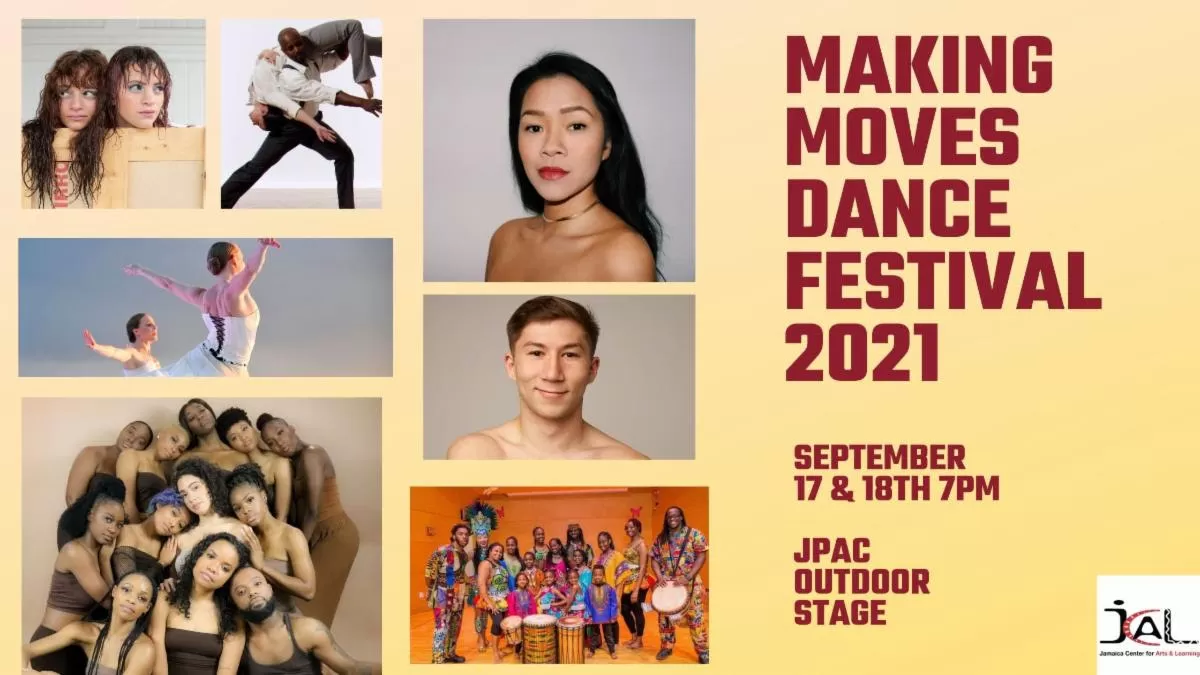 Making Moves Dance Festival 2021 ~ To Life is a free two-day event set to take place on the outdoor stage of the Jamaica Performing Arts Center (153-10 Jamaica Avenue) on Fri., Sept. 17 and Sat., Sept. 18, starting at 7pm on both days.
This year, JCAL offers what is, by far, its most diverse lineup ever, with styles that include Ballet, Afro-Latin, East Asian, Middle Eastern, Afro-Caribbean, East Indian and more.