Meet the Playwright is Back - Here's the Details for the Series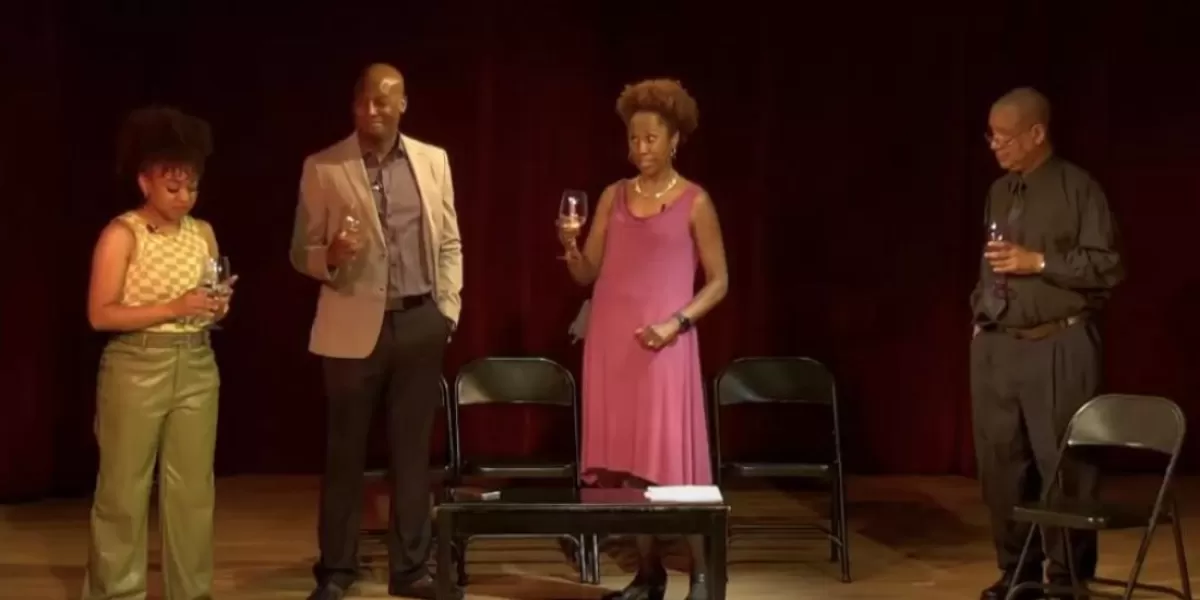 JCAL has announced the fall/winter lineup for Meet the Playwright, its annual script development series spotlighting emerging writers identifying as BIIPOC (Black, Immigrant, Indigenous, People of Color) and based in Queens.
Participating playwrights are Chelsea Dei (Black Daisies/White Daisies), Rajendra Maharaj (Brown Girl in the Ring), Tom Block (Oud on the Tel), and Victor Vauban (Siblings). Surfaced through a competitive application process and selected by a jury of theater professionals, each playwright receives a $2,000 stipend and presents excerpts of their play as a staged reading, followed by a question-and-answer period with the audience.
The stipend permits the playwright to cover the cost of engaging directors, actors, and other collaborators or members of their creative team. One play will receive a full production at JCAL in 2024.
Meet the Playwright takes place at 8pm on the last Thursday of each month, November 2023 to February 2024, at JCAL's Black-Box Theater (161-04 Jamaica Avenue). Tickets are free.
JCAL Artistic Director Courtney Ffrench created Meet the Playwright as a digital event in 2020. This year's series Curator, Brenda Jones, trained at the U.S. International University's School of Performing Arts and the American Academy of Dramatic Arts. After a full career in advertising and marketing sales for media companies, Jones returned to the theater to direct and coach. Her credits include the Secret Theater and New York Theater Festival's Winterfest Competition.
"For the third year of Meet the Playwright, we have discovered four wildly different, but equally inspiring, new theatrical voices," said JCAL Executive Director Leonard Jacobs.
Meet the Playwright is made possible through principal support from New York City Council Member Nantasha Williams. Additional support is provided by the Mellon Foundation, the Howard Gilman Foundation, the NYC Dept. of Cultural Affairs, the Office of Mayor Eric L. Adams, NYC Council Speaker Adrienne Adams, NYC Council Whip Selvena Brooks-Powers, and private supporters.
Meet the Playwright Line-Up, 2023-24
Thursday, Nov 30, 2023, 8pm

Title: Black Daisies/White Daisies
Playwright: Chelsea Dai
Director: Kacie Koen
Actors: Natsumi Sasabe, Minna Kim
Synopsis: In what seems like reality, Tina and Ting'an reflect on shared memories and experiences. As their discussion escalates into boundary-breaking teases, and then a catastrophic fight that explores different genres of dance and martial arts, the truths of their existence, identity, and body are revealed. And in the aftermath of their war, they negotiate co-existence in different realms—both reality as well as fantasy.
Thursday, Dec 21, 2023, 8pm
Title: Brown Girl in the Ring
Playwright/Director: Rajendra Maharaj
Actors: Aguel Lual, Roots Fender
Synopsis: Set the early 1980s in St. Andrew's Parish, Jamaica, Brown Girl in the Ring is a memory play with music. Ewarton reveals to his mother that he plans to commit suicide. Subsequent dialogue between mother and son slowly reveals Ewarton's reasons for this decision, culminating in a disturbing, yet unavoidable, climax.
Thursday, January 25, 2024, 8pm
Title: Oud Players on the Tel
Playwright: Tom Block
Director: Moshe Henderson
Stage Directions Reader: John Druzba
Actors: Mark Peters, Kannan Menon, Emile Lacheny, Zach Canter
Synopsis: Set in the foothills of Jerusalem in 1947, Oud Player on the Tel follows a family of Jewish refugees from Europe after the destruction of World War II. It uses true forensic history to expand the conversation around Jewish-Muslim history and how too often it is viewed through the scrim of current enmities, instead of historical realities.

Thursday, February 29, 2024, 8pm
Title: Siblings
Playwright/Director: Victor Vauban
Actors: Yvette Quintero, Vikings Vilpigue, Stelle Ekpo
Synopsis: It's 1990s Harlem and Alberta is lost and depressed after a bitter divorce from her beloved husband, an African militant she met in college. Now alone and dealing with a teenage son she sees as unruly, she finds herself immersed in alcoholism and pills as an escape to her glory days as a young opera singer, when she dreamt of following in the steps of Marian Anderson and Leontyne Price. Themes include motherhood, alcoholism, religious indoctrination, and transgenderism.