Meet the Playwright
February 22nd, 7pm
JCAL Youtube


Meet the Playwright explores new work by emerging and established writers for the stage. In a live webinar format, a professional director will rehearse a scene with professional actors, and the author will participate in both a pre-show discussion and moderated post-show Q&A with the audience.
In case you missed it!
JCAL Talks Featuring
Melva M. Miller
The first installment of JCAL Talks, a new speaker series that highlights the diverse spectrum of thought leaders in Queens NYC. The inaugural guest is Southeast Queens Champion and CEO of the Association for a Better New York, Melva M. Miller,
Ms. Miller was in conversation with JCAL Interim Executive Director Leonard Jacobs, followed by curated Q&A with the audience
Watch:
Process->Project: What Comes Out of Our Sketchbooks.
On View now @ JCAL
If you're unable to check out "Process->Project: What Comes Out of Our Sketchbooks" in person, we have you covered. Check out this video on our Youtube below and be sure to subscribe for more virtual events!
To view in person, book a free appointment here
JCAL School of the Arts Survey


JCAL is exploring ways to reactivate its School of the Arts, while maintaining COVID safety protocols through social distancing. Please help us out by letting us know which of the following options you might be interested in for your children.
UPCOMING EVENTS


Riddim Section Presents:
Lea Anderson
February 24th, 7pm JCAL Youtube
JCAL's new monthly series "Riddim Section" draws life directly from the cultures found across Queens. The first performer will be R&B soul singer Lea Anderson.
Through her own rhythm and blues, Lea Anderson aims to create an intimate connection between herself and anyone who has come in contact with her fluid soprano sound.
Next on 2nd Thursday Night Jazz:
Amirtha Kidambi - March 11th, 7pm JCAL Youtube
Amirtha Kidambi is invested in the creation and performance of subversive music, fro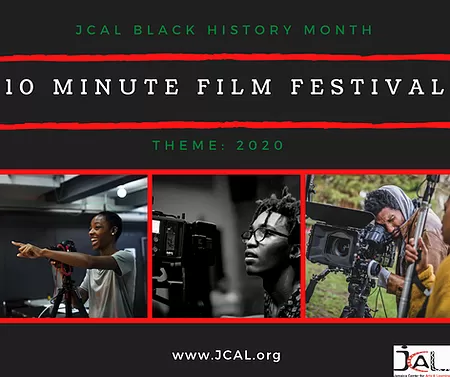 m free improvisation and avant-jazz, to experimental bands and new music. María Grand is a saxophonist, composer, educator, and vocalist.
In this duo, they explore the timbral and expressive combinations of their voices and saxophones through collaborative compositions.








10 Minute Film Festival
April 16th - April 17th 7:30 pm
JCAL Youtube
The dates are set and RSVPs are officially open for JCAL's 10 Minute Film Festival. A three-member jury will select films that will be streamed on JCAL's YouTube channel, awarding prizes totaling in over $1000. RSVP for the free event below, or submit your film here.
FANIKE! African Dance Troupe Black History Month 2021 Virtual Journey - Feb 27th - 7:00 PM FANIKE! African Dance Troupe explores the survival of African and African Diasporic culture and arts through movement and percussion. They encourage the exchange of wisdom and knowledge within our community, especially between elders and their juniors. FANIKE! hails from Southeast Queens; has participated in the Queensboro Dance Festival; and performs annually for BAM
Dance Africa's Salute to the Ancestors and
across the tristate area. RSVP HERE
Open Calls & Opportunities


Seeking Creative Students!
If you have an interest in creating content, acting, or storytelling we'd love to meet you! JCAL will be hosting a four part workshop series. Participants will work with entertainment industry professionals from Mass Transit Theater to guide them through the process of finding your voice as a creator and becoming the author of your own future.
Three of the four sessions will take place via Zoom. The fourth session, based on safety protocols, will possible be a socially distanced session at JCAL where participants will do an on-camera interview about the process and have their work be filmed. This is open to all high school students and 8th graders.
If interested please contact our Director of Education, Juan Carlos Salinas at jsalinas@jcal.org
Now Hiring Teaching Artists!


JCAL is hiring teaching artists for live digital programming to New York City public school students, and commissioning teaching artists for "JCAL Education at Home," a prerecorded youth- and adult-learning series. Applicants should have experience delivering virtual instruction in both live and pre-recorded settings; those with filming and editing skills are especially welcome.
Sponsored By:

Flushing Bank branch location at 89-12 Sutphin Blvd, Jamaica, NY now open, ready to serve your banking needs.