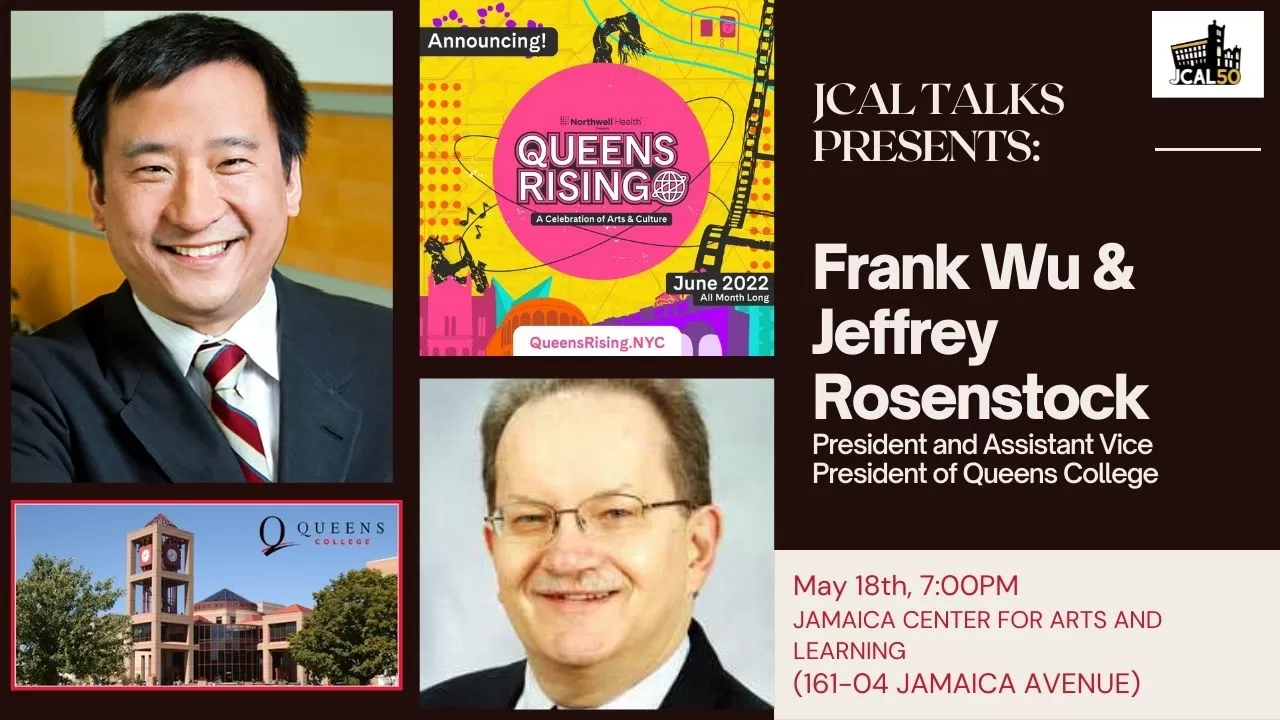 On Wed., May 18, Jamaica Center for Arts and Learning wraps up its current in-person season of JCAL Talks with Frank Wu, President of Queens College/CUNY, and Jeffrey Rosenstock, Assistant Vice President, in a wide-ranging conversation with JCAL Executive Director Leonard Jacobs. The event, which is free and open to the public, begins at 7pm in JCAL's Black Box Theater (161-04 Jamaica Avenue).
JCAL Talks spotlights Queens-based thought leaders in arts and culture, education and politics, and civic and community life. The series began as a remote initiative in 2020; previous episodes, all available on JCAL's YouTube channel, have included Dr. Berenecea Johnson Eanes, President of York College; Melva M. Miller, CEO, Association for a Better New York (ABNY); and Jennifer Furioli, Executive Director, Jamaica Business Improvement District, and Derek Irby, Executive Director, 165th Street Mall Association.
Under Frank Wu's leadership, Queens College is raising the bar as a transformative hub of arts and culture all throughout the borough. A new and exciting element is Queens Rising, a monthlong celebration in June 2022 highlighting the borough's immense cultural and creative diversity by amplifying and promoting local arts, culture and entertainment. The initiative emanated from the Arts Advisory Board of Queens College's Kupferberg Center for the Arts; JCAL has played a leadership role in creating Queens Rising, together with nearly all arts organizations, groups, and institutions in Queens.
"Earlier in this JCAL Talks season," noted Leonard Jacobs, "we were deeply inspired by President Eanes' commitment to academic excellence. Now we welcome a complementary visionary in the City University system: Queens College President Frank Wu, whose exceptional love of the arts teaches us why culture, and cultural inclusion, are among our strongest assets as a community."
"We've been so excited about Queens Rising ever since we heard about the idea coming out of the Kupferberg Center over at Queens College more than two years ago," added JCAL Artistic Director Courtney Ffrench. "Now, at last, June 2022 is almost here, and literally everything arts and culture in Queens is going to benefit from uplift and promotion and borough-wide attention. For Queens, this is our moment, and as an alumnus of Queens College, I'm looking forward to learning more about the plans for the future that President Wu and Assistant VP Rosenstock have for elevating arts, culture and entertainment across the entire borough."