JCAL Presents Jamaica Mic Drop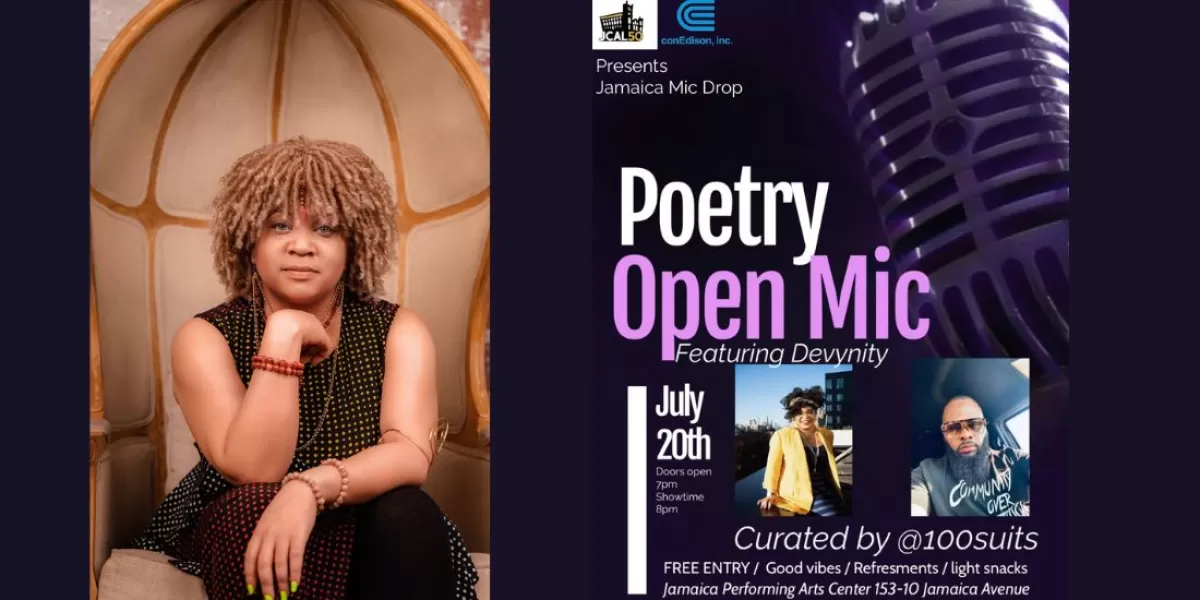 Jamaica Center for Arts and Learning is pleased to present Jamaica Mic Drop, a monthly presentation of spoken word poetry at Jamaica Performing Arts Center. The series – which began with a dynamic spoken word event on Juneteenth – celebrates the enduring power of free expression, and storytelling. Jamaica Mic Drop runs from June to October, consisting of one event per month. The series is funded in part by Con Edison.
Jamaica Mic Drop is curated by Kevin Livingston, the founder of 100 Suits for 100 Men. The nonprofit organization provides professional attire for formerly homeless or incarcerated men and women for job interviews. Livingston's work has drawn widespread praise, ranging from New York City leaders to Colin Kaepernick. Also an accomplished poet, he has pulled together an impressive lineup of community-based artists for Jamaica Mic Drop.
The spoken-word series will also lend the stage to voices within the community, as each event will conclude with a spoken mic segment. Attendees are welcomed to let their voice be heard through poetry and storytelling. 
Official Event Lineup
June 19th, 2023 8 pm- Juneteenth: In Our Words 

Five spoken word artists will grab the mic and express Juneteenth in their words. There will be an open mic in the last 30 minutes of the event.
July 20th, 2023 8 pm - Devynity Wray
Devynity Wray is a visual artist and writer from Queens, NY whose work makes the trajectory of the African diasporic heritage, experience and legacy prominent.
August 24th, 2023 8 pm - Shanelle Gabriel
Shanelle Gabriel is a poet, singer, lupus warrior and educator from Brooklyn, NY who has toured the globe. Widely known for featuring on HBO's Def Poetry Jam, she has shared the stage with artists such as Jill Scott, Nas, Nikki Giovanni, KRS-One, Anderson Paak, and more. Shanelle has competed in both the National and the Individual World Poetry Slams, and has performed at venues such as the Apollo Theater, Howard Theater, Lincoln Center, Black Enterprise's Women of Power Summit, ADCOLOR Conference, and more.
September 21st, 2023 8 pm - JRose

Spoken Word Poet & NYC native, JRose is on a mission to share a unique and intimate look at artistry, life, romance and new age entrepreneurship through the perspective of Poets. Catch them on The JRose Experience! This traveling talk show is jammed packed with interviews, performances, and creative games. It serves a well balanced plate of entertainment and thought provoking conversations your creative palette is hungry for. 
Ms. Bizzy Body Tha Poet is the CEO of Triple DDD Productions, unfettered spoken word artist, passionate social worker and published author of Poems from a Broken Heart. We discuss the struggles and pressures of being a poet. Her experience on the road with Burrows Ink's Sweetspot and carrying the heavy demands of your fans, the big stages, and unseen weights that we sometimes put on ourselves. Can the stage that sets you free become what leaves you feeling trapped? A herstory about growth, fire poetry, and hard realities that artists encounter as they blossom.