JCAL Art Classes Returns! Details Inside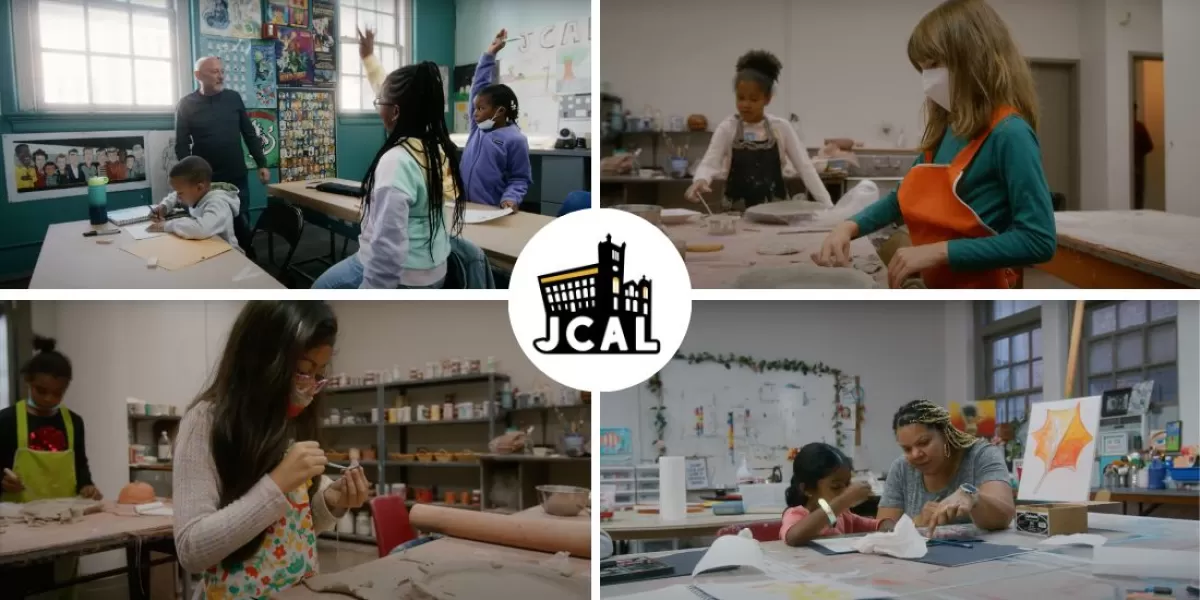 JCAL has opened registration for JCAL Art Classes summer semester. View classes here. On Saturday, July 8th at 12 pm, JCAL will host an Open House for the semester featuring free demos with each of the professional Teaching Artists. Attendees will get a hands-on feel for the classes as JCAL's teaching artists lead interactive workshops. The semester will kick off the following Saturday, July 15th with a diverse lineup of offerings including classes in Ceramics, Cartooning, Painting, Fashion, Acting, Animation, Voice and more. 
JCAL's Art Classes is it's cornerstone year-round program offering affordable, high-quality visual and performing arts classes and workshops for youth, adults, families and seniors. This semester will bring back longtime teaching artists like Sana Musasama, a celebrated ceramic and mixed-media artist who has been teaching at JCAL for decades. JCAL will also welcome newer teaching artists like David Lawson, who will lead a storytelling class for adults. 
Longtime JCAL Teaching Artist Alex Shapiro will lead classes in cartooning and animation, while Fashion Design classes will be led by famed designer Indo Aboki. Erica Purnell will teach the ​​fundamental elements of drawing and painting in her popular class. Those partial to performing arts may find interest in JCAL's Piano, Voice or Acting classes. 
JCAL Members will receive 20% off of class lineups year-round, along with other perks like free exclusive events, discounted parking and $20 broadway tickets. Learn more about membership here. 
Learn More About JCAL Arts Classes 
Acting 
This class is designed to stimulate, excite and inspire your creative self. Students will engage in theater games and improvisation as a basis for exploration. Saturdays - 11:00am - 12:00pm, 12:00pm - 1:00pm 

Voice 

Students will learn about the voice as an instrument, the fundamental techniques of singing, and harmony - all while building a joyful community through music. Saturdays - 11:00am - 12:00pm 

Drawing and Painting 

Learn fundamental elements of drawing and painting with pen and ink, watercolor, painted-paper collage, printmaking, and acrylic and tempera painting. Saturdays - 11:30am - 12:30pm 1:00pm - 2:00pm, 2:00pm - 3:00pm 

Ceramics 

An introductory course designed to give students a hands-on educational and artistic experience using the medium of clay. Saturdays - 11:30am - 12:30pm, 1:00pm - 2:30pm Tuesdays - 6:30pm - 8:00pm 

Fashion Design 

Students will learn the fundamentals of fashion design, including fashion illustration and machine and hand sewing. Saturdays - 2:30pm - 4:30pm Wednesdays - 6:30pm - 8:30pm 

Piano 

This keyboarding class is an intensive 12-week class for beginning and intermediate piano students. Saturdays - 11:00am - 12:00pm, 12:00pm - 1:00pm, 1:00pm - 2:00pm, 2:00pm - 3:00pm 

Storytelling 

Learn to perform true stories from your own life onstage for an audience. This class covers writing. editing, rehearsing, performing and more. Saturdays - 2:00pm - 3:30pm 

Comics and Cartooning 

Students will learn drawing techniques that will allow them to create original characters. Every student will take home a finished comic book at the conclusion of the class. Saturdays - 11:00am - 12:00pm 

Comics and Animation 

The class includes the option of creating stop motion cartoon animation which may include traditional hand drawn cell animation, white board animation, cut paper animation, flip books, claymation, and object animation. Saturdays - 12:00pm - 1:00pm 

Imagination Inventors 

Build incredible sculptures of fantasy inventions such as robots, spaceships, futuristic cars, and time machines. Saturdays - 1:00pm - 2:00pm