JCAL Announces Unveiling of New Mural in Queens
JCAL & JPAC
Jamaica Center for Arts and Learning announces Queens Reflections, a mural to be unveiled Wed., Aug. 17, 11:30am (sharp) at Daniel M. O'Connell Playground in St. Albans, Queens.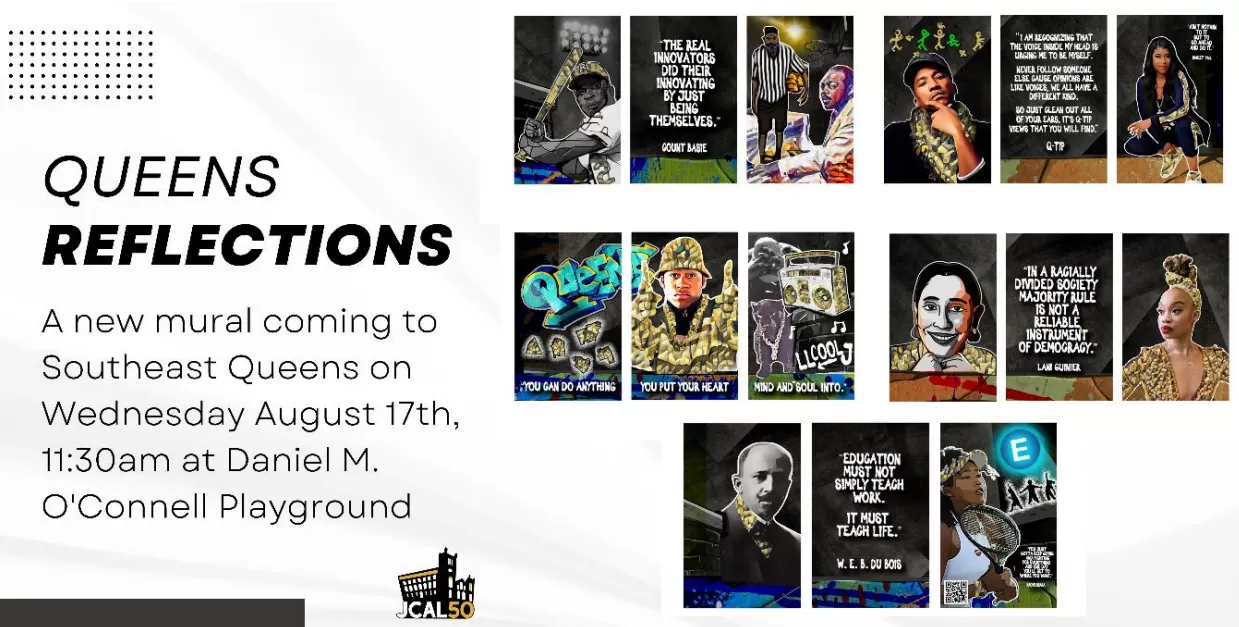 August 10, 2022 (New York) — Jamaica Center for Arts and Learning (JCAL) is thrilled to announce the Wednesday, August 17, 11am unveiling of Queens Reflections, a block-long beautification project located at the Daniel M. O'Connell Playground (113-1 196th St.) in St. Albans, Queens. Exhibited through NYC Parks' Art in the Parks program, Queens Reflections is by the gifted fine and digital artist Eric Black, a native of the borough and resident of the community. It consists of portraits and inspirational quotes from famous icons associated with Queens across history and popular culture.
Queens Reflections fulfills the vision of I. Daneek Miller, former New York City Council Member for District 27 (Cambria Heights, Hollis, Jamaica, St. Albans, Queens Village, Addisleigh Park, Springfield Gardens) from 2014 to 2021. Having assigned the project to JCAL, Black was then selected through a citywide open-call process. His extraordinary mural depicts LL Cool J, Q-Tip, Jackie Robinson, Count Basie, Sweet Tee, Lani Guinier, Camille A. Brown, Gregg Vance (aka Coach Chuck), W.E.B Dubois and Naomi Osaka. It also features QR codes with biographical information on each person depicted.
"Beautification projects like this one in our district are incredibly important. They not only allow for residents to take pride in their community, but also embrace the rich history of Southeast Queens. I would like to thank JCAL for their extensive search in finding an artist that could capture the culture of Queens," said Council Member Nantasha Williams. "I would like to congratulate and thank the artist, Eric Black, for his artistic creativity in reimagining this block that truly reflects Queens. I also want to thank my predecessor, I. Daneek Miller, for funding this project."
"The cultural and intellectual icons and luminaries we are honoring with this mural did not just help to shape the artistic legacy that define who we are as a community," said District Leader and former City Council Member I. Daneek Miller. "They also worked to shape and intricately define our values. We now have an opportunity to recognize the sheroes and heroes of Southeast Queens, control our own narrative, and tell our story not only in our own backyard but with the world. I am extremely proud of this project and thank my successor, Council Member Nantasha Williams, for keeping the vision alive and seeing it to fruition!"
"The Queens Reflections mural highlights Southeast Queens luminaries that help shape our vibrant neighborhoods and open spaces," said NYC Council Majority Whip Selvena N. Brooks-Powers. "As someone who grew up around the corner from Daniel O'Connell Park and spent many summer days there, I am excited the community will be able to celebrate and memorialize a visual representation of Black excellence, and recognize the contributions of our sheroes and heroes through this mural. I applaud Jamaica Center for Arts & Learning and NYC Parks for their commitment to commemorate and elevate the lives of Southeast Queens residents and their outstanding contributions to American history."
"This mural is a vibrant celebration of Southeast Queens, and we are happy to exhibit the artwork at O'Connell Playground through our Art in the Parks program," said NYC Parks Queens Borough Commissioner Michael Dockett. "We thank the Council Member's office and the Jamaica Center for Arts and Learning for their partnership on this project."
"Queens Reflections is a visual trip down memory lane, paired with notable quotes that should inspire and motivate the viewer," said artist Eric Black. "It's more than a collection of images. For me, it's a museum outside that should take people through the rich and inspirational history of this part of Queens. I wanted to have a healthy mix of people from all aspects of life—some figures that people instantly recognize, to some that might be overlooked. These creative portraits should spark people's memories and remind them of the power that we all have as individuals and as a collective.
"Also, I couldn't have done this alone," Black added. "My best friend, Adrian Brown, an artist and musician who creates motivational music for all ages, as well as a crew of talented young artists, made this project a delight to work on. Justice Levenson has been working with me for over five years, developing his artistic and filmmaking talents; he definitely keeps me grounded and plugged into the new generation. Justice's younger brother, Tyler Blau, is a talented actor about to attend the LaGuardia School for the Performing Arts. Nicole Wang, another Queens native, was brought to my attention by Tyler with her impressive portfolio of masterful illustrations. These young artists all had a drive to learn and a passion for the arts and are waiting for the next big project."
"Competition was tough for this project," noted JCAL Manager of Special Projects Wendy Arimah Berot. "Our objective was to select an artist who not only understood the roots of the community but has a personal connection to it. Eric, who is from Cambria Heights, possesses an artistic expression that fulfilled both. His chosen balance of sensibilities and iconic figures speaks volumes to the richness of Southeast Queens. We are extremely proud of the work he's doing."
"This is an extraordinary example of teamwork and how it elevates our community," added JCAL Artistic Director Courtney Ffrench. "Like a well-trained 4x400 relay team, the baton started in the office of then-Council Member Miller, then passed to JCAL, then to NYC Parks, and finally into the masterful hands of artist Eric Black. What started as a dream has arrived."
"Queens Reflections is an eye-popping triumph of boundless imagination and endless pride," said JCAL Executive Director Leonard Jacobs. "It proves yet again that right here, living among our families and friends and neighbors are some extraordinarily expressive and fiercely imaginative artists with the power and skill to draw all of New York City's attention to the O'Connell Playground. From the start, Eric Black showed that he was just such an artist—with the results now for all to see. How blessed are we to celebrate his work as he lifts up the legends of our community across time."
About JCAL
Jamaica Center for Arts & Learning (JCAL), founded in 1972, is a multidisciplinary arts center based in the diverse community of Southeast Queens. Our mission is devoted to offering quality visual, performing, and literary arts, and to providing accessible education programs to encourage participation in the arts. JCAL is open Monday through Saturday from 10am to 6pm; closed Sundays and major holidays. For additional information, call JCAL at 718-658-7400 or visit JCAL.org.
About NYC Parks' Art in the Parks program
For over 50 years, NYC Parks' Art in the Parks program has brought contemporary public artworks to the city's parks, making New York City one of the world's largest open-air galleries. The agency has consistently fostered the creation and installation of temporary public art in parks throughout the five boroughs. Since 1967, NYC Parks has collaborated with arts organizations and artists to produce over 2,000 public artworks by 1,300 notable and emerging artists in over 200 parks. For more information about the program, visit
www.nyc.gov/parks/art.