JCAL Announces New Exhibition "Free Your Mind"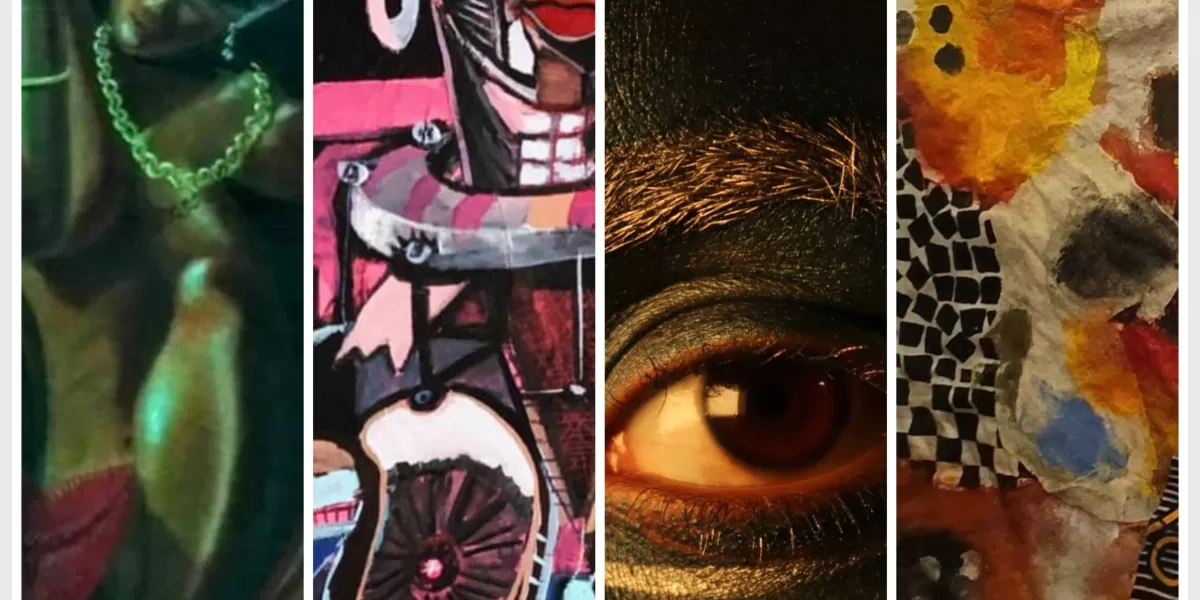 JCAL is pleased to present the first exhibition from its new curatorial initiative Visual Voices. Free Your Mind – curated and conceived by Queens-based artist Shenna Vaughn – will open in JCAL's galleries on July 8th, with an opening reception at 5 pm. The work will remain on view until September 1st.
Free Your Mind will present the work of 44 New York-based artists, with an overarching theme of breaking boundaries, and adventuring past creative blocks, insecurities, doubts, fears, and struggles. The artists range from emerging talents to established artists such as Danny Simmons and Reginald Rousseau – both of whom have exhibited to acclaim at JCAL in the past.
The exhibition will mark the start of a new Visual Arts era at JCAL, in which the organization intends to re-establish best practices for its visual arts department. Visual Voices is a three-year Visual Arts curatorial initiative spanning from 2023 to 2025. The cohort of five emerging and midcareer curators will cultivate and elevate emerging talent, design open calls, produce artist talks, invite local collectives, and run workshops and demonstrations. 
The curators will receive fiscal, strategic and institutional support to propose and mount exhibitions in JCAL's galleries as well as in partner spaces throughout Queens, exploring themes that reflect the BIIPOC (Black, Immigrant, Indigenous, People of Color) experience.
Free Your Mind features work by:

Damali Abrams, Ashleigh Alexadria, Edgie Amisial, Madeleine Hope Arthurs, Luk Beckles, William Bentley, Natali Bravo-Barbee, Barrington Brissett, Shanelle Campell, Luis Caraos, Sandy Clafford, Sadikisha Saundra Collier, Malik Yusef Cumbo, Kate Fauvell, Joshua Fuller, Nieasha Fullington, Musa Hixson, Sydney Hyppolite, Julia Justo, Paul Lambermont, Lusmerlin Lantigua, Serge Limontas II, Tali Margolin, Hernan Mery, Stephanie Mulvihill, Okechukukwu Ofiaeli, Robert Reid, Moses Ros, Reginald Rousseau, Naderson Saint-Pierre, Jean Segarra-Rosa, Ernani Silva, Danny Simmons, Jaimee Todd, Un Cutt, Susan Vero, Stephane Verzi, Lisa Wade, William Walker, Heather Williams, Sarah Willis, David Wilson, Farhana Yasmin, Fina Yeung
About Shenna Vaughn
Shenna Vaughn is a visual artist, educator, curator and community worker. Born and raised in Queens, NY. She attended FIT and graduated from Hunter College. Her inspiration draws from the fascination of textures, geometric shapes and silhouettes. Her body of work is creative, intuitive and reflects life experiences. Vaughn has received grants from Queens Council on the Arts and City Artist Corps. She is on the committee of Southeast Queens Artist Alliance (SEQAA). Her art has appeared in multiple films, publications, exhibitions internationally and Art Basel nationally. Her pieces are in Beyoncé's corporate collection and is privately held by the likes of Josh Powell (NBA Player) and Tommy Porter & Mara Schiavocampo (News Personality) just name a few.