JCAL Announces Literary Program Focused On Work Of Four Black Authors
JCAL Reads will return for an engaging six-week run, sponsored by a Humanities New York Vision/Action Grant. Centered on the work of four contemporary, community-based Black male authors, the latest iteration of JCAL Reads is called "You Cannot Define Me: The Black Man". The series runs for six weeks, Tuesdays at 7 pm from Oct 24 - Nov 28. The gatherings to read and discuss the award-winning published work of four Black male authors will take place in the black-box theater at the Jamaica Arts Center (161-04 Jamaica Avenue).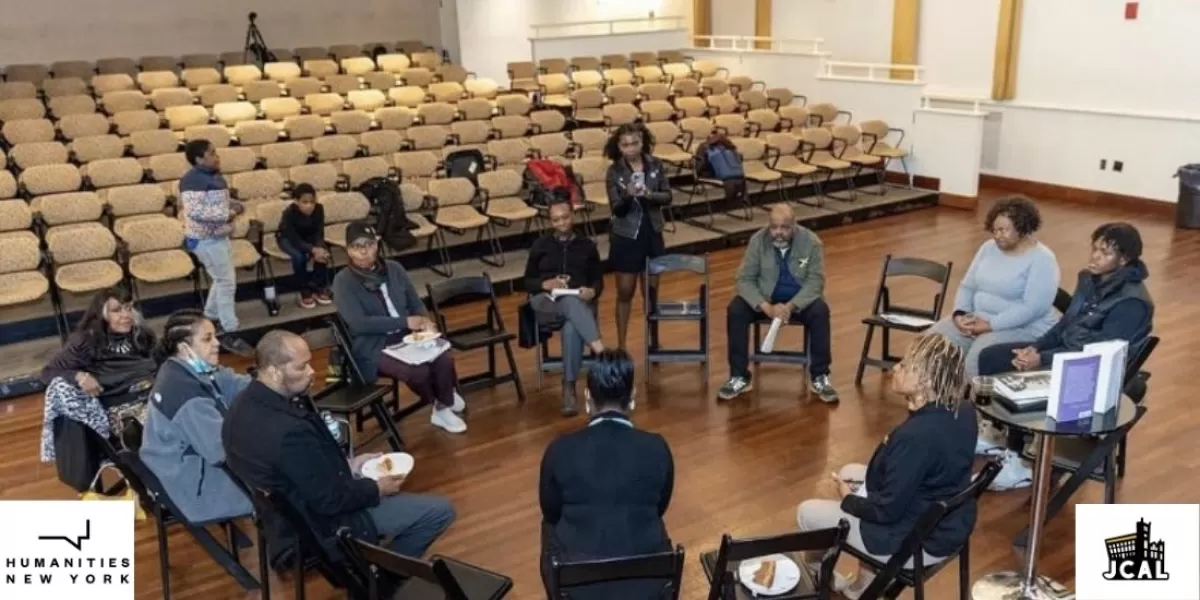 Free and open to the public, JCAL Reads is devoted to reading and discussing socially relevant and thought-provoking literature in a group setting. Transformation—or even "alchemy"—through literature lies at the heart of "You Cannot Define Me: The Black Man," which considers the potential of literature to educate, to empower and to liberate Black men.
The authors for this edition of JCAL Reads include poet-writer Jamal Hodge, bestselling author Kenn Bivins, retired NYPD officer-turned-author Corey Pegues, and author-educator Kareem Hayes ("Inf the Author"), who will also serve as facilitator of the program.
Free copies of each book will be provided to participants who RSVP and then attend a majority of the sessions, which last about an hour and include free refreshments.
About the Authors
Kareem Hayes (Facilitator)
Kareem Hayes found his passion for writing and storytelling at an early age. David Dinkins, the mayor of New York City at the time, published Kareem's poem "Heart Beat" when Kareem was twelve years old. His many accolades include speaking in front of thousands, opening for Jesse Jackson, and being one of the top youth long-distance runners on the east coast. Kareem is more than an author; he's a griot who uses the power of his words and charisma to empower and inspire.
Today, he's known as Inf the Author, an independent publisher who has sold over 30,000 books by hand. A force to be reckoned with, he's taking the literary world by storm with a no-holds-barred, descriptive style of writing. His love for his audience drives him to create superior works that not only entertain, but also inform. Inf the Author's goal is to enlighten the masses and empower his community as well as other up-and-coming authors and artists.
Kenn Bivins
Kenn Bivins loves telling stories. While he's more popularly known as a writer of words, his career began as an illustrator, telling stories with pictures. However, it was inevitable that he would delve into the written word. His livelihood as a writer began in 2010 when Pious, his first novel, was published. Since then, he's written five more books, including the 39 Lessons series and the first of the Felona Mabel series. 39 Lessons for Black Boys & Girls has been a #1 bestseller for almost as long as it's been out, and Kenn also had a successful book club tour with the Wedding & Disaster of Felona Mabel. He's currently completing two novels and working on a fully illustrated children's book.
Jamal James Hodge
Jamal James Hodge is a Native New Yorker who grew up surrounded by the perils of poverty, the diversity of multiple overlapping cultures, and the harmonious circus of 6 siblings. He is a multi-award-winning film director whose one obsession is exploring the great 'Why?' inside each of us. Jamal loves the broken things that want to be understood, and the secret things that never bothered to hide. With his writing he hopes to uncover the paradox between suffering and meaning, to use darkness to show light. When he's not writing or filming, Jamal Hodge is traveling to odd locales, volunteering at some community organization, or in the gym working out to a near-death experience.
Corey Pegues
As a result of his professionalism and gravitas in the field, Corey rose quickly through the ranks of the NYPD. He is a celebrated Commander and public servant who has been at the forefront of bridging the gap between the community and police. Over the course of his career, he has received numerous awards and specialized training on a myriad of topics aiding in his impeccable record on the police force. He was also an Adjunct Professor (Criminal Justice Department) at Monroe College and Medgar Evers College for over five years.
In May 2016, Corey published and authored his first book "Once A Cop"; which has been met with critical acclaim around the country. His book is a memoir of his life which takes the reader on a rollercoaster that will have you going through several emotions as he details his story of growing up a drug dealer to becoming an executive in the biggest police department in the country.
About Humanities New York
The mission of Humanities New York is to strengthen civil society and the bonds of community, using the humanities to foster engaged inquiry and dialogue around social and cultural concerns.
About JCAL
Jamaica Center for Arts & Learning (JCAL), founded in 1972, is a multidisciplinary arts center based in the diverse community of Southeast Queens. Our mission is devoted to offering quality visual, performing, and literary arts, and to providing accessible education programs to encourage participation in the arts. JCAL is open Monday through Saturday from 10am to 6pm; closed Sundays and major holidays. For additional information, call JCAL at 718-658-7400 or visit JCAL.org.
Media Contact:
Tyrel Hunt, Marketing Director 347-515-3652 or tyrelh@jcal.org