Free Music Festival: Southeast Queens Jam Fest is Here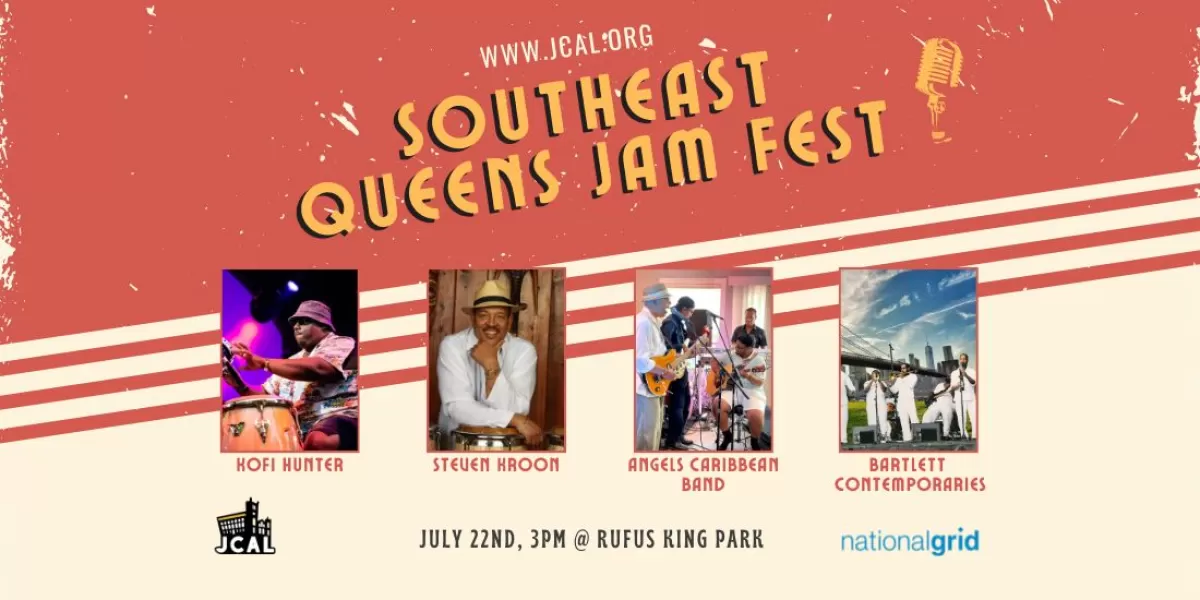 On Saturday, July 22, 3pm at Rufus King Park, Jamaica Center for Arts and Learning (JCAL) presents the fourth annual Southeast Queens Jam Fest. The music-filled afternoon will bring talent from across the Diaspora to the stage, in styles ranging from Afro-Cuban to Jazz, Soul, Reggae and more. Funded in part by National Grid, Southeast Queens Jam Fest is free to all.
RSVP Here: https://www.eventbrite.com/e/southeast-queens-jam-fest-tickets-653931004237
Southeast Queens Jam Fest is the culminating event for JCAL's Riddim Section, a live music series that draws life directly from the cultures across Queens. This year's Jam Fest lineup includes Steven Kroon, the electrifying Latin Jazz musician who has performed with Luther Vandross, Ron Carter, Aretha Franklin, and Lady Gaga.
JCAL has also brought back a few favorites from the 2023 Riddim Section season lineup to perform. The members of the Angels Caribbean Band come from, and mix styles from, various Caribbean islands. Acclaimed Jazz musician and Southeast Queens' own Kofi Hunter will deliver an exciting homecoming performance. The lineup will be rounded out with the Barlett Contemporaries, a legendary urban contemporary band with a fresh explosive sound.
Having grown since its inception in 2020—when it was the first public arts event in Queens to take place in person (but outside) after the COVID lockdown—Southeast Queens Jam Fest has made the move into Rufus King Park to accommodate the expected audience.