This weekend:
Southeast Queens Jam Fest
July 24th, 4pm
153-10 Jamaica Avenue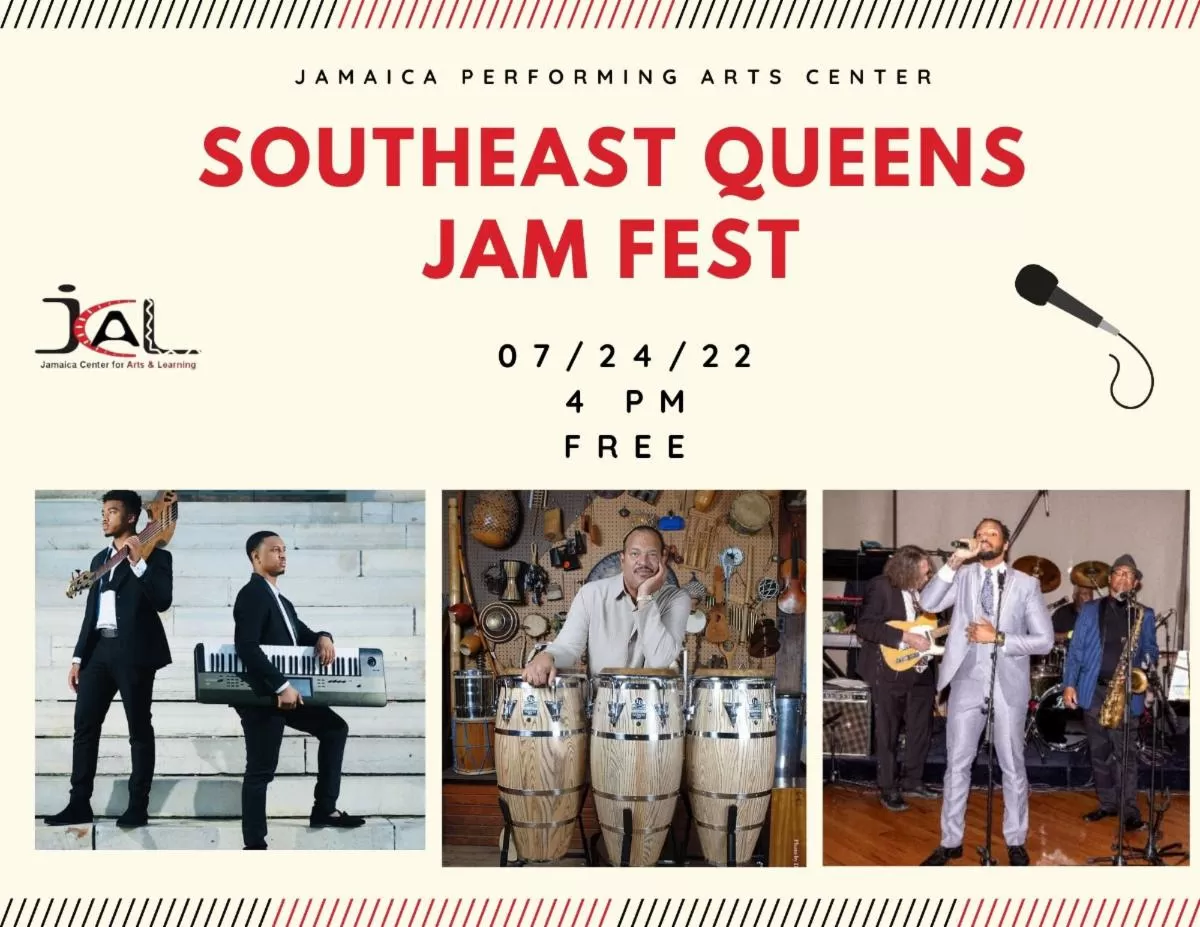 Southeast Queens Jam Fest will bring some of the community's very best talent together for a free day of live music and entertainment. Meet the bands below!
About Riffz: Riffz was established in 2009. The band retains and rotates at least 10 members who all are youth from underserved communities. All band members play multiple instruments proficiently. Riffz New York appearances include performances at community events annually in celebration of Martin Luther King Day, Black History Month, Award Ceremonies, Community Leaders, Elected Officials, school concerts, parties, and more.
About Steven Kroon: Steven Kroon has worked with such notables as Luther Vandross, Ron Carter, Aretha Franklin, Lady Gaga, and much more. He's played on an array of television shows including the Tonight Show, David Letterman, and Jay Leno, as well as the Grammy's. His band is a high-energy electrifying Latin Jazz Sextet. Their musicality consists of Jazz with a blend of Afro-Cuban and Brazilian music.
About True Tribute AllStars: True Tribute AllStars is comprised of a uniquely talented blend of musicians and vocalists from various cultural backgrounds whose musical performances stimulate as well as entertain. Established in 2014, by saxophonist and educator LeRoy Graham Jr., their musical presentations focus on Edu-tainment, performing with a purpose. Each performance is dynamic in its presentation and a True Tribute to Caribbean Music and Culture honoring the Pioneers of Caribbean music.
JCAL Education at Home Presents:
39 Lessons with Kenn Bivins
Free YouTube Series with Best-Selling Author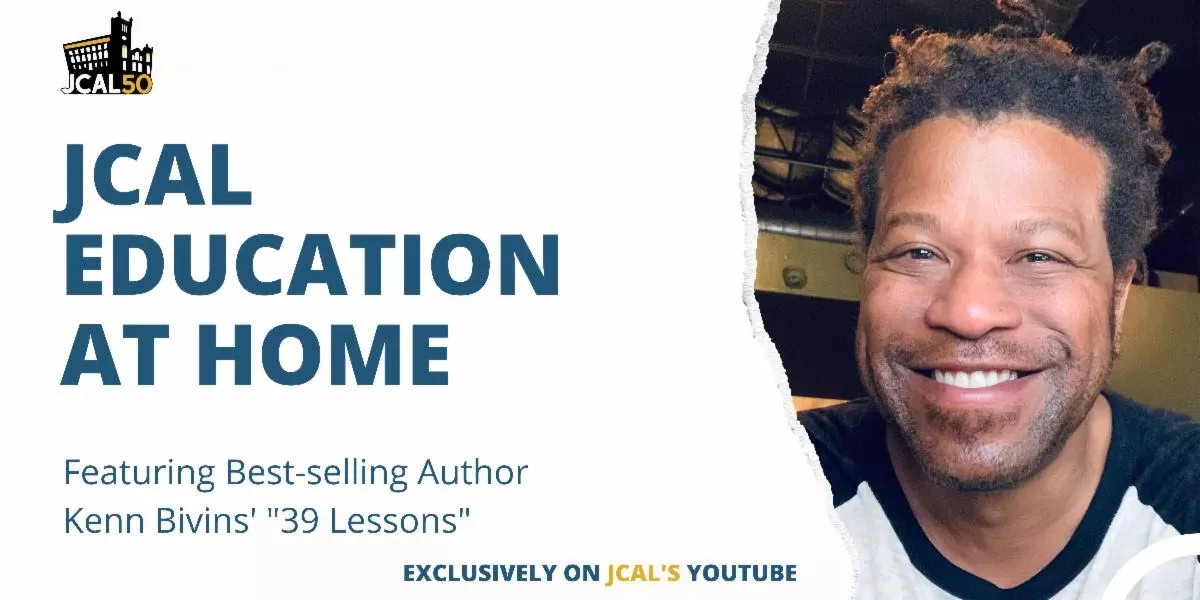 The list of new JCAL Education at Home titles begins with 39 Lessons, based on the best-selling 39 Lessons for Black Boys & Girls by author Kenn Bivins. 39 Lessons is a series of affirmations and lessons that promote self-esteem, education, justice and wisdom among Black children of all ages. Filmed in four short parts, 39 Lessons is also a great kick-starter for in-depth conversations about race with boys and girls of all ethnicities.
Watch the series in full below!
Flamenco Latino 2022 Más Allá Series
August 4th and August 5th, 7:30pm
Jamaica Performing Arts Center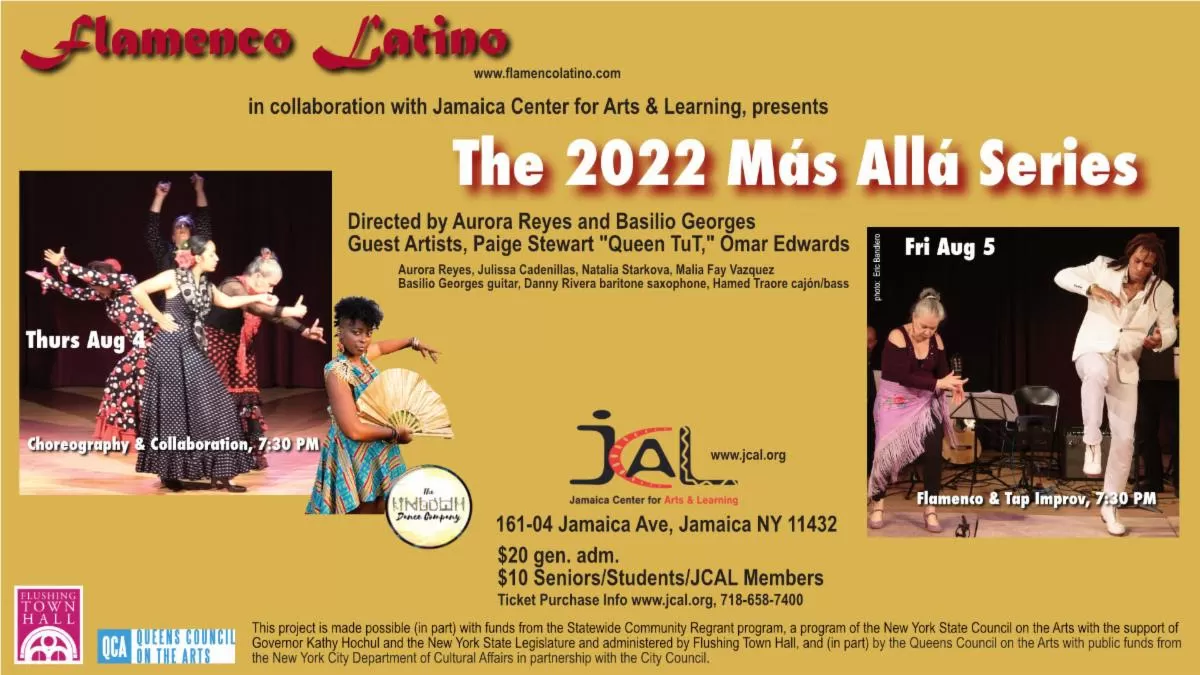 Directors Aurora Reyes and Basilio Georges will present two different programs. On Thursday, August 4, 2022 at 7:30 PM, the theme is "Choreographies and Collaboration," featuring Aurora's group choreographies, and the debut of "Quejillo/Shout," a Flamenco/Hip Hop fusion piece, created in collaboration with Paige Stewart "Queen TuT" and The Kingdom Dance Company.
On Friday, August 5, 2022 at 7:30 PM, the theme is "Flamenco and Tap Improvisation," featuring Aurora with the dynamic tap dancer and "foot musician," Omar Edwards. They are accompanied by Basilio Georges' original music which infuses Flamenco with elements of Jazz, Blues, and Salsa.
Special Announcement: JCAL is now offering Hip Hop Dance!
JCAL School of the Arts Summer Semester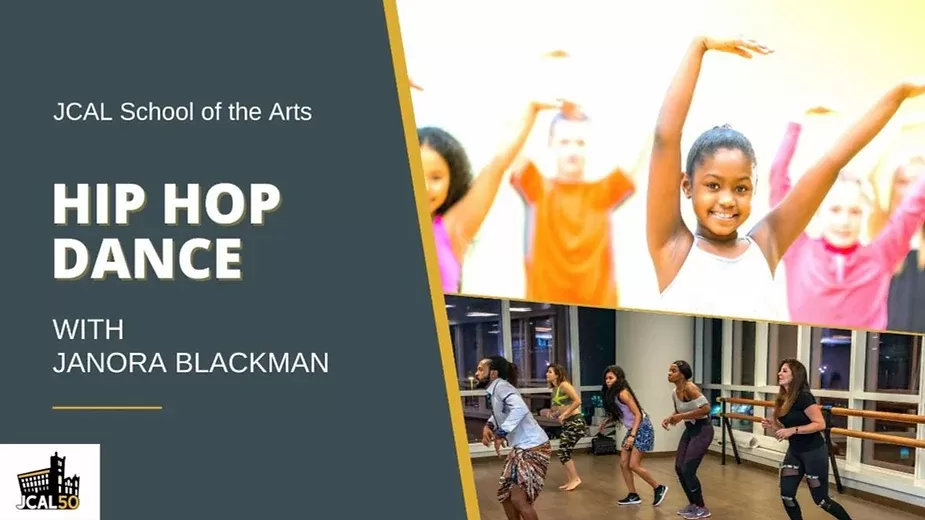 We're pleased to announce that we've added a dance class to our upcoming summer semester. Register today to reserve your spot for "Dance with Janora Blackman".
Students will learn fresh hip hop routines each session and have the opportunity to showcase some of their favorite moves. This class is the perfect mix of creativity and an exhilarating workout.
"Hip Hop Dance with Janora Blackman" is open for registration now for ages 5-8, and ages 9 and up. Register below!
Questions? Please feel free to email our Education Director Juan Carlos Salinas at Jsalinas@jcal.org.
Orchestra of St. Luke's Summer Serenades
July 29th, 6:30pm
Jamaica Performing Arts Center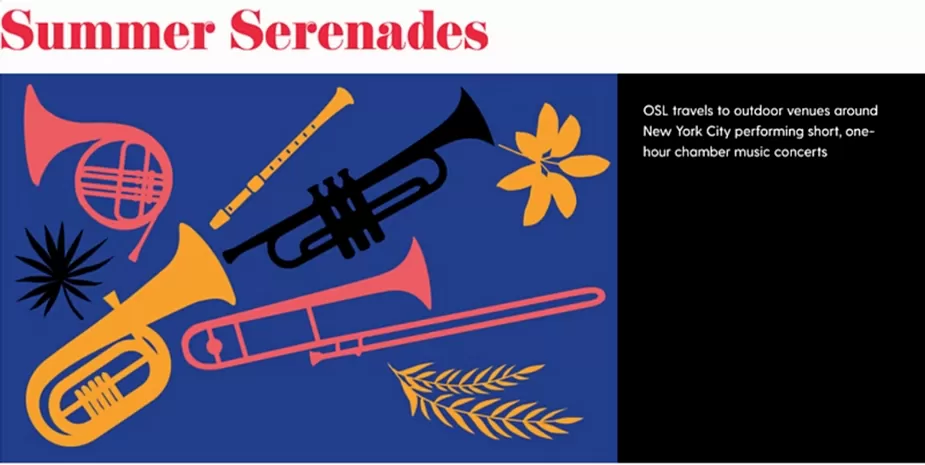 RSVP to this live concert comprised of music by Gounod, Mozart, and Valerie Coleman, a frequent collaborator with the orchestra.
OSL returns to its chamber music roots each summer with the "Summer Serenades" programs in each of New York City's five boroughs. This season the concerts feature a piece for wind quintet by Valerie Coleman, Performance Today's 2020 Classical Woman of the Year and the orchestra's partner for a long-term collaboration last season.
A New Exhibition at JCAL!
"It's a Luxury to Look Back"
On View Until July 29th @ JCAL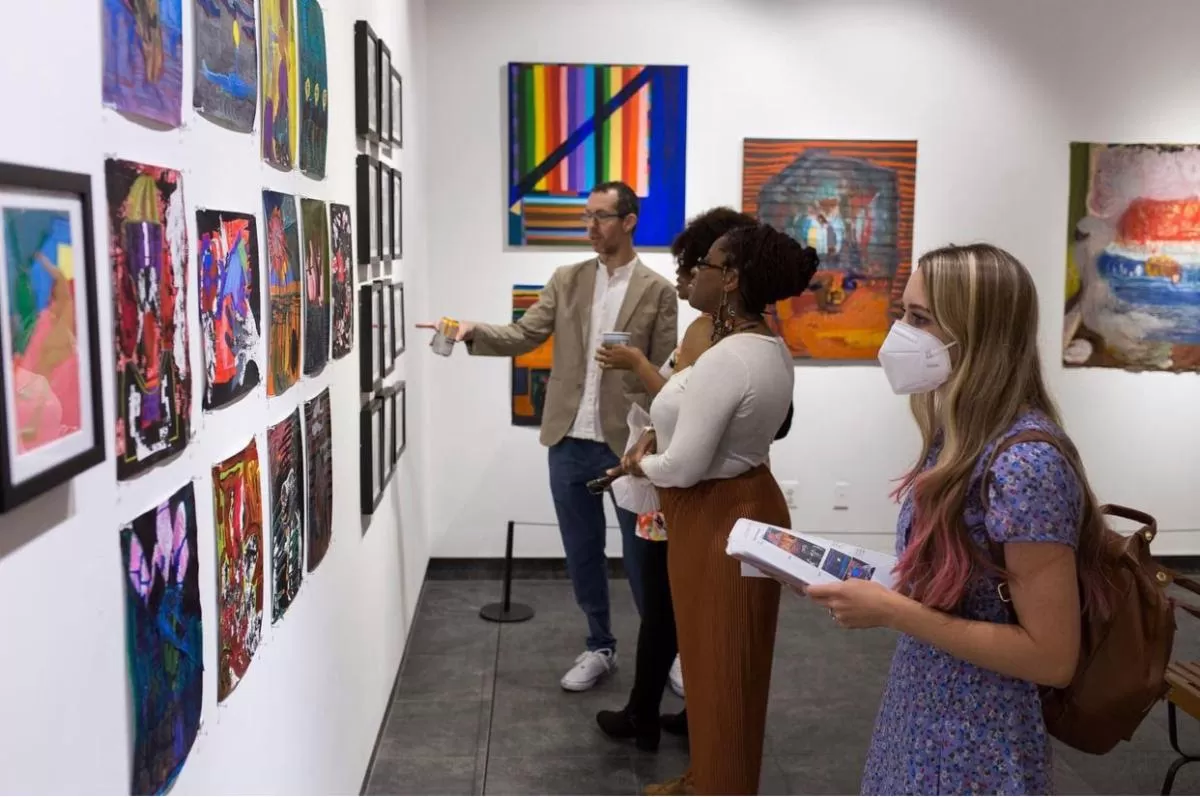 Angela Miskis: "It's a Luxury to Look Back" is currently on view in JCAL's Miller Gallery until July 29th, 2022. The exhibition was recently featured in Hyperallergic "21 Art Shows to See in New York This Summer." and announced in the Queens Daily Eagle "New exhibition from Southeast Queens organizer set for JCAL."
You can view the exhibition during the week from 11am to 8pm. Check gallery hours by calling (718) 658-7400. The artist will also be present at the gallery every Saturday until July 23rd, 2022 from 12pm to 5pm. You can RSVP using this link.
Classes are Underway!
JCAL School of the Arts Summer Semester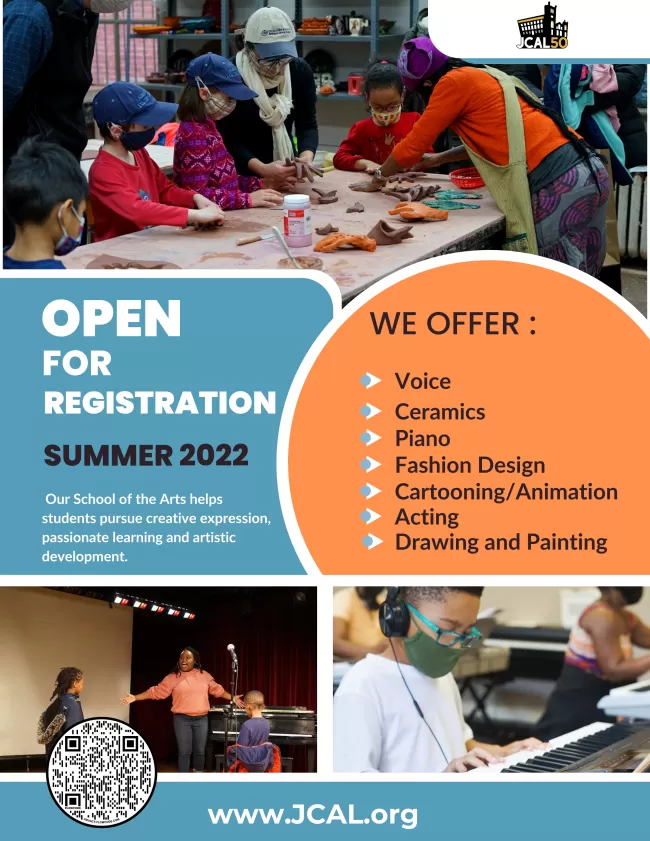 JCAL School of the Arts is now open for registration! Our summer semester's lineup includes classes in Voice, Ceramics, Piano, Fashion Design, Cartooning, Acting, Painting, and more. Sign up below while space is available.
Reminder: JCAL Members get up to 25% off of classes, along with free exclusive events and $20 Broadway tickets. Become a member today!
Videos of the week - Southeast Queens Jam Fest
(From the Archive)
Southeast Jam Fest is this weekend! In preparation, we're reflecting on a few of our favorite moments from the annual event throughout the years. Be sure to subscribe to our YouTube for more content!
RSVP to Southeast Queens Jam Fest here.
Photos of the week - Southeast Queens Jam Fest (From the Archives)
Check out these photos from previous Southeast Queens Jam Fests! RSVP to this Sunday's event here.
Thank you to our sponsors!
JCAL thanks the below businesses for sponsoring our 50th Anniversary year! Tap the logos to learn more about each business and support!