This Friday! Jamaica Mic Drop
July 30th 5:00pm
@ Parsons Public Space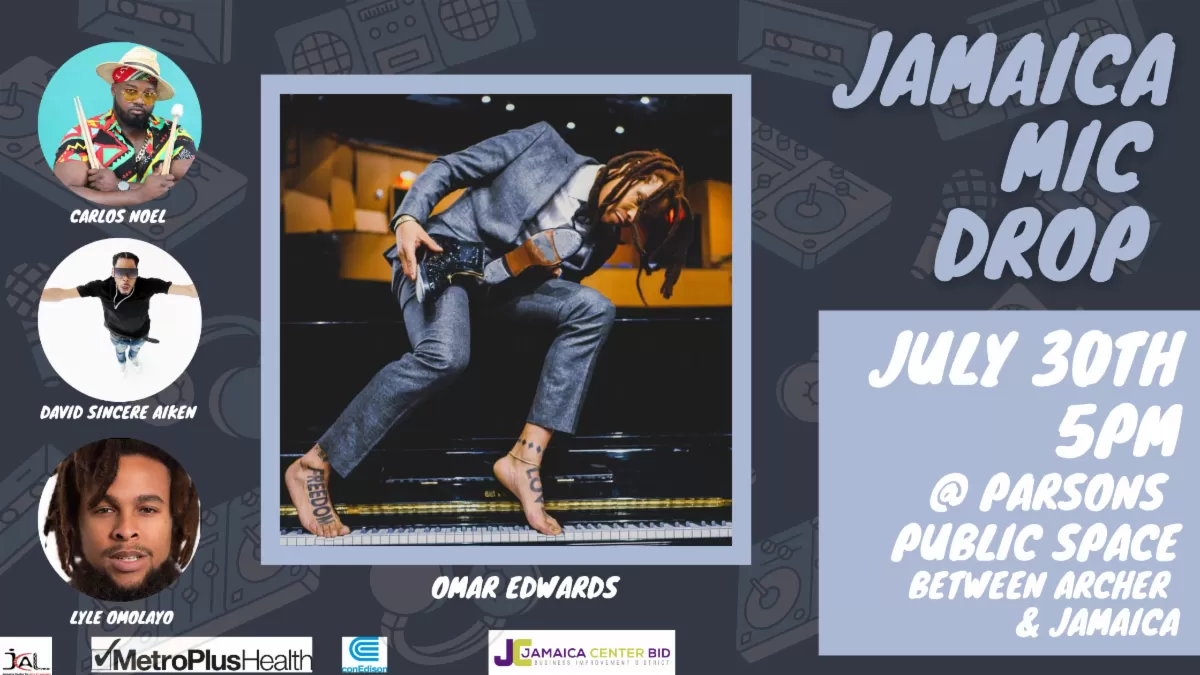 On July 30th at 5pm, Jamaica Avenue will once again be home to free live music and entertainment. This month's Jamaica Mic Drop will include live dance, poetry percussions and more! With sponsorships from the Jamaica Center BID, MetroPlus and Con Edison, the event will take place in the Parsons Public Space—the full block between Archer and Jamaica Avenue on Parsons Boulevard.
Jamaica Mic Drop is a new community-first program created to bring free live, outdoor performances to Southeast Queens. Join us this month with an RSVP!
Southeast Queens Jam Fest
September 12th, 2021 3pm
Jamaica Performing Arts Center Outdoor Stage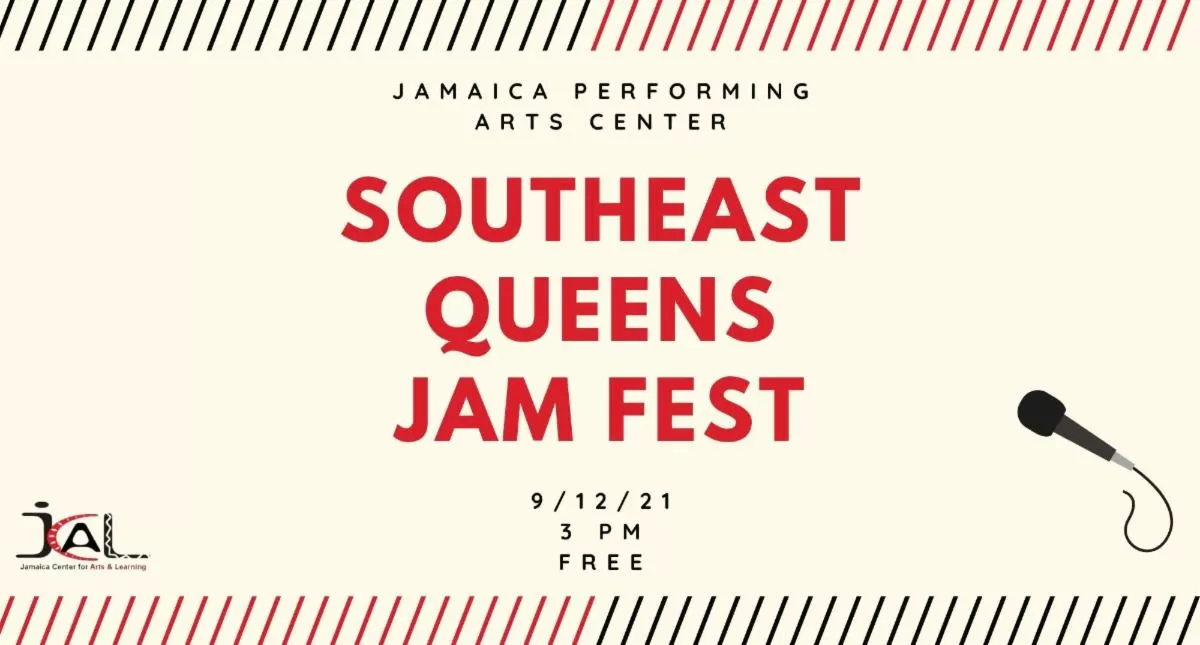 We are thrilled to present the second annual Southeast Queens Jam Fest! This event will bring 3 exciting, community based performers to the outdoor stage of the Jamaica Performing Arts Center on September 12th, 3pm. RSVP today to check out our exciting lineup of
musicians. RSVP HERE!
Making Moves Dance Festival
September 17th & 18th 7pm
Jamaica Performing Arts Center Outdoor Stage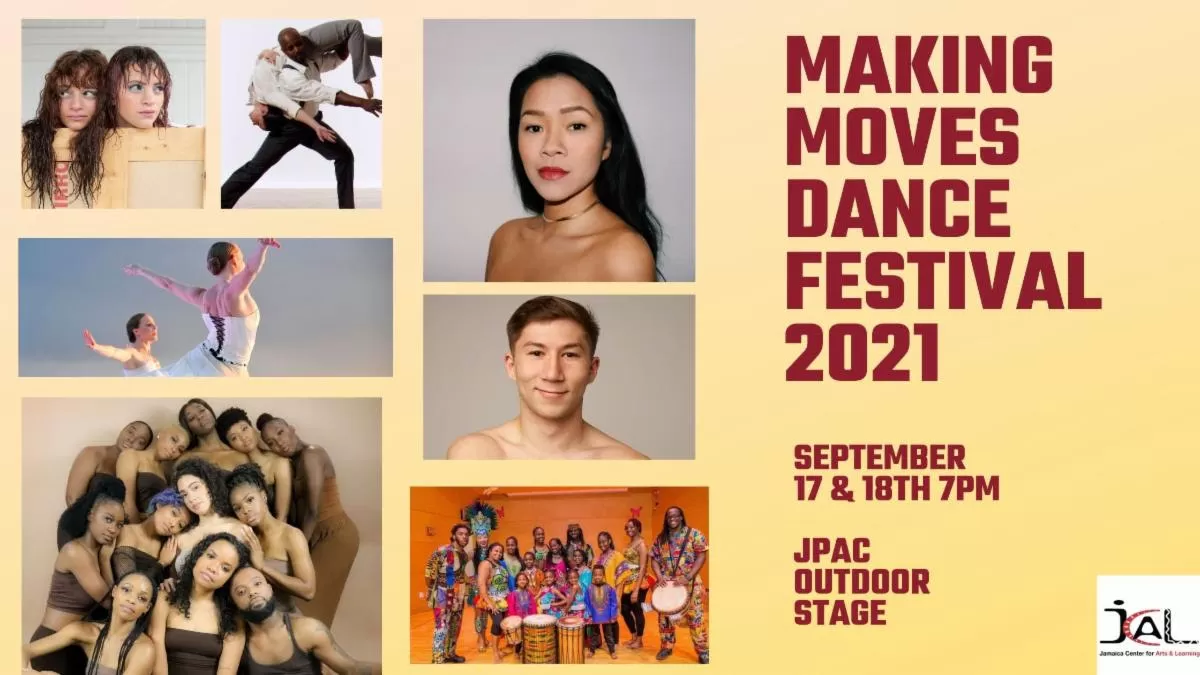 Making Moves Dance Festival 2021 ~ To Life is a free two-day event set to take place on the outdoor stage of the Jamaica Performing Arts Center (153-10 Jamaica Avenue) on Fri., Sept. 17 and Sat., Sept. 18, starting at 7pm on both days. RSVP HERE!
This year, JCAL offers what is, by far, its most diverse lineup ever, with styles that include Ballet, Afro-Latin, East Asian, Middle Eastern, Afro-Caribbean, East Indian and more.
This Saturday!
Jamaica Flux
Workspaces & Windows 2021
Book a free appointment today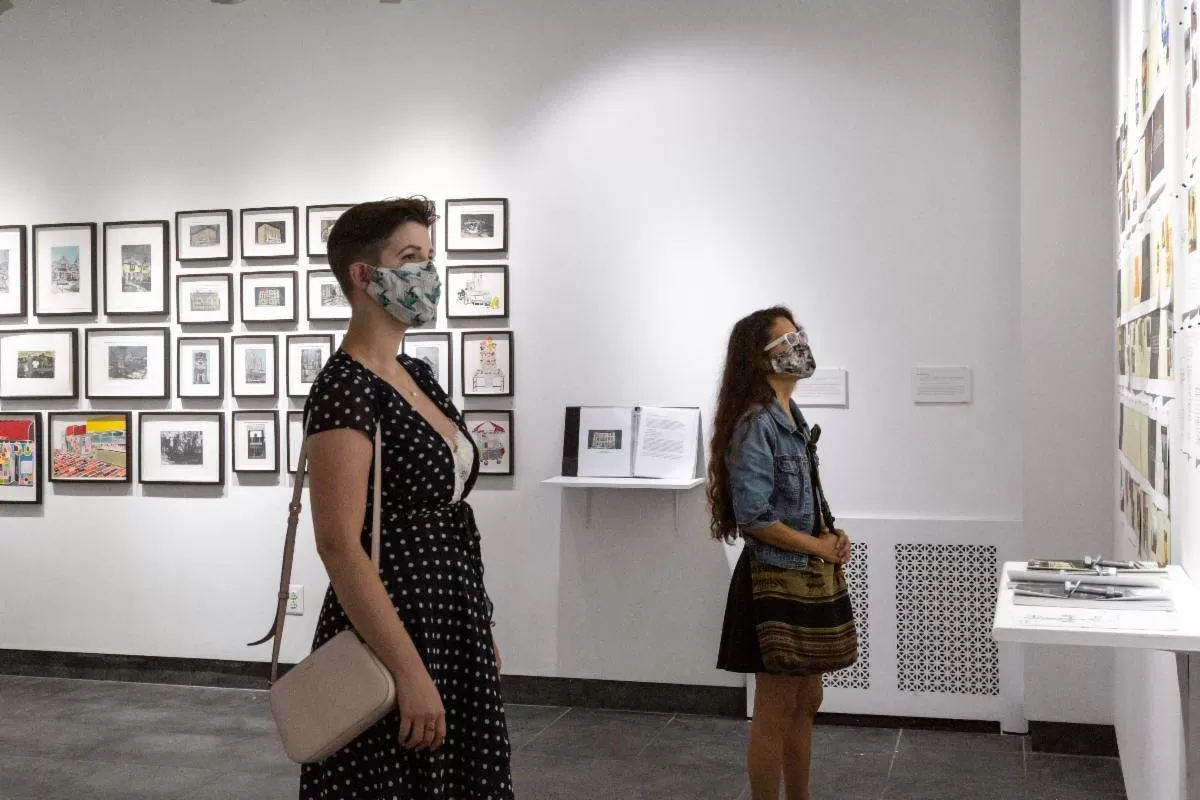 Book your appointment today to our check out our current Visual Arts Exhibition for Jamaica Flux: Workspaces and Windows!
Jamaica Flux 2021 explores the interconnection of Jamaica's history, economic development, cultural heritage, and diversity to conceptualize topical, socially engaging projects. The exhibition brings together artists, curators, scholars, local residents, community leaders, developers, and politicians to build on the cultural legacy of Southeast Queens and to catalyze the transformative power of the visual arts, generating creative responses to the anxieties and tensions of our present moment.
JCAL thanks the Jean & Louis Dreyfus Foundation
The Jean and Louis Dreyfus Foundation has awarded JCAL $15,000 for general support. The Jean and Louis Dreyfus Foundation, Inc. was established in 1979 from the estate of Louis Dreyfus, a music publisher, and that of his wife, Jean. The mission of the Foundation is to enhance the quality of life of New Yorkers, particularly the aging and disadvantaged.
The Foundation disburses grants to organizations within the five boroughs of New York City and primarily in fields supportive of aging, arts, education, and social services. The incredibly generous support from the Foundation will help JCAL continue its mission of inspiring youth to pursue an interest in the arts, showcasing emerging artists and performers, and delivering multidisciplinary, multicultural programs to Southeast Queens as we enter our 50th Anniversary season.
District 24 by Indranil Choudhury
15-minute 2-channel video installation @ JPAC lower-level lobby, on view through August 21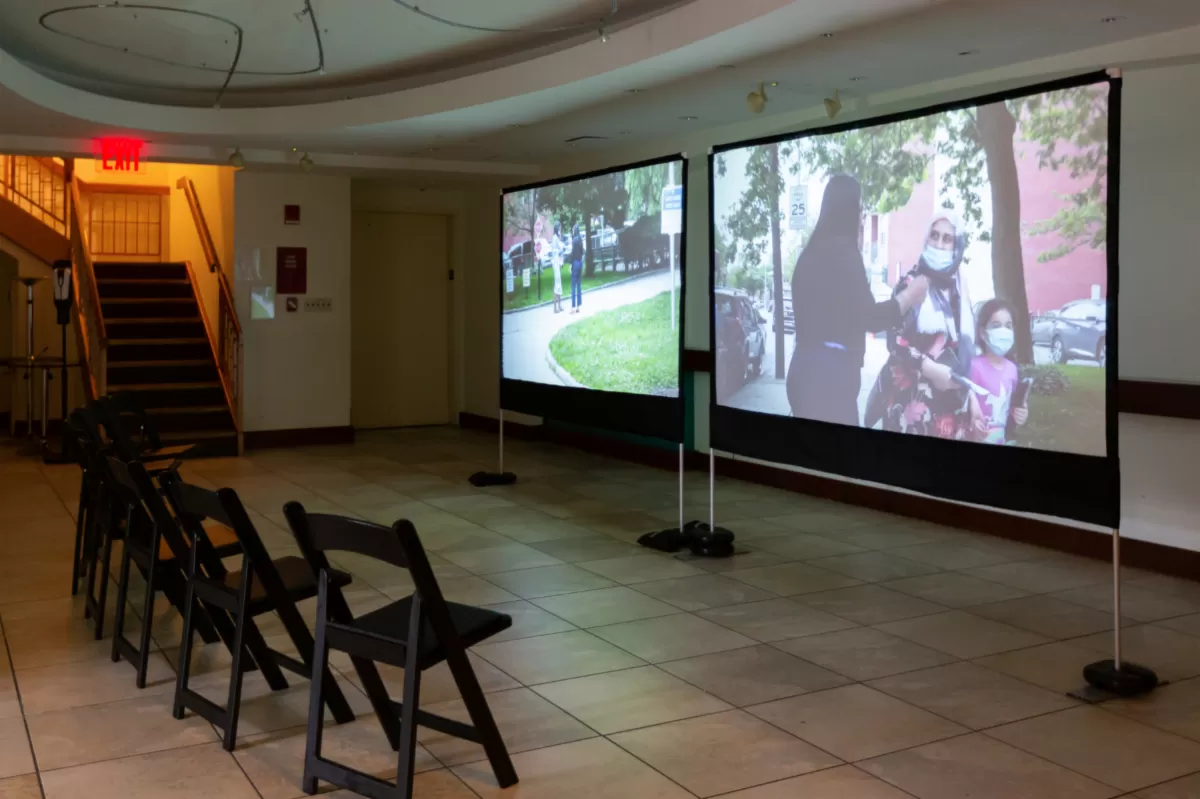 District 24 is on view now at Jamaica Performing Arts Center! Email Nkuo@jcal.org to book a free viewing appointment! The title of the installation, District 24 refers to the New York City Council district that Jamaica falls under. The film documents Moumita Ahmed's campaign for City Council in the 2021 elections. Over the course of an eventful 48 hours behind the scenes, the film attempts to capture the opportunities and challenges of getting a true grassroots campaign off the ground.
Indranil Choudhury is a media artist from India. He is a graduate student at Hunter College's Integrated Media Arts program and teaches in the school's Department of Film & Media Studies.
This project is part of Jamaica Flux: Workspaces & Windows 2021.
'REPLICA' [ Migrational Influx] by Firoz Mahmud
A Performance/Demonstration July 31st 4pm
Jamaica Air train Station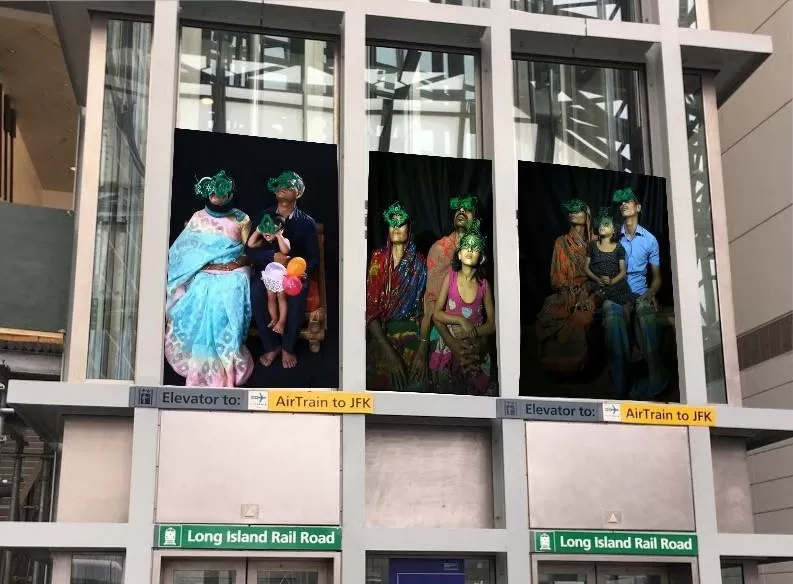 Artist Firoz Mahmud will have a performative demonstration 'REPLICA' [Migrational Influx] at JFK AirTrain station in Jamaica. The performers will hold placards of photographs of immigrant families in the Airtrain station, symbolizing immigrants. The JFK airport is the largest gateway of immigrants and passengers to New York.
Thus, the performance with photographs of immigrant and refugee families will be a representation of their entrance to the United States. The photographs in the placards feature the immigrant and refugee families Mahmud collaborated with who don green eyeglasses as dreamlike symbols of prosperity for the influx of Bangladeshis and Rohingya families in recent years.
Venue point: JFK Airport's Jamaica AirTrain Station, 93-43 Sutphin Blvd, Jamaica, NY 11435 (inside the building, 1st Floor by Dunkin Donuts & escalator)
RSVP: The artist is looking for more participants! Email Firoz Mahmud - firoz.mahmud.info@gmail.com to sign up or for more information.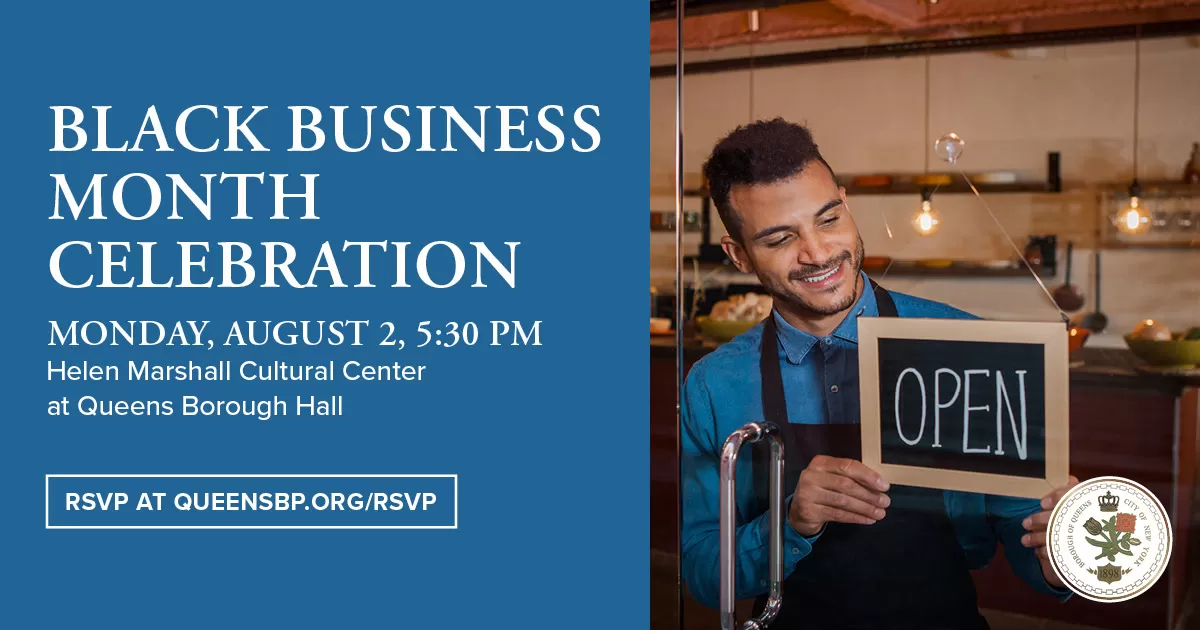 Join Queens Borough Hall for an exclusive experience to support, promote and highlight Black-owned and founded businesses across Queens! Resources for Business Owners and Consumers; Networking and fun for everyone. This event is cosponsored by the Mayor's Office of Minority and Women-Owned Business Enterprises, NYC Department of Small Business Services and its Black Entrepreneurs NYC (BE NYC) initiative, Queens Chamber of Commerce and Queens Economic Development Corporation.