Tyquana "Ty" Henderson-Rivers
Founder and President Connective Strategies Associates, Inc.
---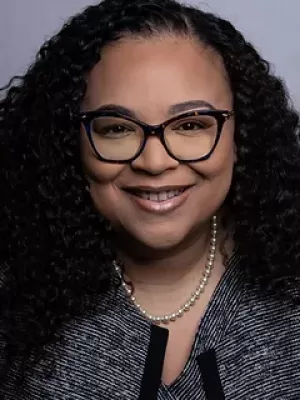 Tyquana "Ty" Henderson-Rivers is the founder, president and CEO of Connective Strategies, a full service political and government relations firm with extensive experience and the contacts to match in New York City and New York State. In her over 25 years in politics and advocacy, she has built an impressive track record of helping firms, organizations, and political candidates build their brands and position themselves for success.
Ty knows what drives New Yorkers to support a candidate or a cause, and she also knows what doesn't. Since her first foray into politics at the tender age of 12 as a member of the 79th Precinct Youth Council, Ty has had a knack for creating messaging and branding that connects with everyday people, particularly in New York where she was born and raised and as a result, understands NYC voters and communities at a visceral level. Ty has a quantifiable and demonstrable record of success leveraging coalitions, advocacy groups, community organizations, and clergy to get people to the polls and score major wins.
Ty, a certified MWBE business owner, has played critical and leading roles in countless winning political campaigns for elected officials including, Congressman Gregory Meeks (D-5th district); retired Congressmembers Charles Rangel and Ed Towns; former NYS Governor Andrew Cuomo; NYC Mayor Bill de Blasio; NYS Senator Leroy Comrie; Assemblymembers Jeffrion Aubry, Cathy Nolan, Michelle Titus and Vivian Cook; Queens District Attorney Melinda Katz; NYC Councilmembers Adrienne Adams and Selvena Brooks-Powers; Queens Borough President Donovan Richards, and countless others.
Ty is a registered lobbyist and is among the most sought-after organizers in New York because of her ability to find ways to forge common ground and create common sense policy with diverse and often competing individuals, organizations and constituents. Past and present clients include AirBnB, FedEx, Walmart, Royal Waste Services, Newtown Creek Group, Center for Law and Social Justice, DC 1707, Greenhope Services for Women, and the Committee for Taxi Safety to name a few.
Prior to starting Connective Strategies, Ty worked several election cycles for the New York State Democratic Committee for Coordinated Campaigns. Her experience in government also features stints serving on the staffs of U.S. Senator Chuck Schumer, Councilman Thomas White, Jr., former NYC Mayor Bill de Blasio, and NYC Council Speaker Peter Vallone. In 2003, Ty sought to leverage her political experience and worked for one of the top 10 lobbying and public affairs firms in New York City. In this role, Ty represented heavy-hitting organizations including The Brooklyn Chamber of Commerce, Bailey House, SUNY Downstate, and IKEA. Ty was instrumental in the approval and subsequent development of the first IKEA store in Brooklyn. She also spearheaded the creation and implementation of an IKEA-funded job training program for neighborhood residents.
Ty brings this vast experience, commitment, professional network, and winning record to Connective Strategies working for organizations and people just like you. A staunch believer in the political process as a lever for change and community improvement, Ty and her team work tirelessly on campaigns and causes that improve the quality of community life and improve business opportunities for its residents. She is often publicly recognized for her work, including City and State's 40 under 40, Power 100, Socially Responsible and Top 50 Consultants lists, Queens Chamber of Commerce Businessperson of the Year, Congresswoman Yvette D. Clarke's Shining Star award, and a myriad of citations from elected officials recognizing her for her work over the years.
Ty is driven by an unwavering commitment to giving back to the communities that have given her so much over the years. She has served on multiple community boards, including the Board of Directors for the Thomas White Jr. Foundation, and the Jamaica Center for the Performing Arts. She is a member of The Greater Queens Chapter of The Links, Inc.
Additionally, charity is something that is near and dear to Ty, and she incorporates it into the work culture. Ty has led several initiatives including her own annual signature event called "Operation Thanksgiving Giveback" providing full thanksgiving meals with all the trimmings for families in NYC each year, specifically reaching out to families who have been touched by gun and gang violence. Ty and her staff also have "Free Lunch Fridays" in which she partners with local nonprofits to distribute at least 100 free lunches every week to homeless populations.
Tyquana Henderson-Rivers serves on the ministerial staff at the Greater Springfield Community Church and leads the Care, Comfort and Compassion Ministry that works with those dealing with grief, trauma, and long-term illness Ty holds an MBA from the University of Phoenix, and when not fighting the good fight in communities across New York, she enjoys being a wife, a mom, and spending time with family and friends.