---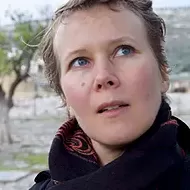 Sari Nordman, a native of Finland, is an interdisciplinary artist working with dance, video and installation. For Jamaica Flux 2021, Nordman will develop Torni-Tower, a collaboratively engineered structure that reflects on the importance of understanding different cultural experiences and immigration when fighting climate change. Nordman will record and translate multilingual interviews to appear in videos projected on the installation. As a dance teaching artist for NYC public schools, Nordman will look for school partnerships to conduct climate-change workshops and gather calls for action from students, which will further become a part of the project's virtual and physical archives.
Nordman has recently received support for her multidisciplinary work from the Catwalk Institute and NYU, The Amsterdam Collective and Tohmajärvi Residency. The artist is also working towards exhibitions at The Immigrant Artist Biennial 2020.
How to Participate: Visit the artist's website to see previous iterations of "Tower," its growing archive, and contact information to participate.
https://sarinordman.com/snfilms/tower/